CAM Software accelerates NC programming.
Press Release Summary: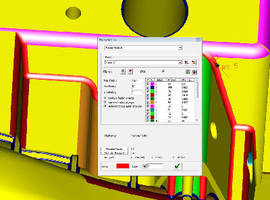 August 7, 2009 - Integrating into wide range of CAD systems, hyperMILL v2009.1 enables users to program 2D, 3D, HSC, 5-axis, and mill-turn strategies using single interface. In addition to extensive standard functions, software includes applications for multi-blade machining, single-blade machining, porting of cylinder heads, and tire molds. Feature and macro technology accelerate NC programming, while fully automated collision checking and avoidance provide process reliability.
OPEN MIND Technologies USA Inc. - Needham, MA
Original Press Release
Across-the-Board Improvements Hailed for hyperMILL® Version 2009.1 from OPEN MIND
Press release date: August 4, 2009
With the new hyperMILL Version 2009.1, OPEN MIND Technologies AG (Wessling, Germany), is setting new standards for the creation of NC programs. Improvements on every level increase process reliability, improve the finish of the workpiece, and reduce machining as well as programming times. OPEN MIND's hyperMILL has always been a powerful CAM software product that enables the realization of complete machining in one system, even for complex geometries, supplying huge advantages for the user. hyperMILL enables the programming of 2D, 3D, HSC, 5-axis, and mill-turn strategies using a single interface. Many specialists see hyperMILL as the leading 5-axis technology worldwide. In addition to extensive standard functions, there are special applications for multi-blade machining, single-blade machining, porting of cylinder heads, and tire molds, among others. The system is equipped with feature and macro technology that hugely simplifies and accelerates NC programming. Macros contain the machining rules for characteristic areas of the corresponding feature, such as thread diameter, sink type and depth, and open or closed pockets. After definition, machining sequences are automatically assigned to the current geometries of the selected feature. hyperMILL contains many efficient machining strategies with a corresponding tool optimization. Plus, fully automated collision checking and avoidance, provide the highest process reliability. hyperMILL can be integrated into a wide range of leading CAD systems, specifically Autodesk Inventor, Solidworks, Thinkdesign, and hyperCAD®. Better overview when handling high workloads
Up to now, the machining steps in hyperMILL were structured in jobs and job lists. "We are now extending this feature by introducing the job group as a new structural element. It assumes a position between job list and job and makes it possible to arrange the machining process based on the sequence of worksteps, geometries, spatial orientation, tool orientation, etc.," says Hagen Ruhlich, Technical Director of OPEN MIND Technologies AG. The addition of job groups improves the structure and particularly helps those users who deal with a large number of jobs or programming steps. Some hyperMILL users have to handle several hundred different jobs. The additional structural options offer these users a completely new level of transparency and a better overview. Automatic programming
OPEN MIND introduced several improvements in the new hyperMILL version aimed at making programming more efficient, even automatic in selected situations. The main focus in this respect is on transformations. They include all operations that move a stored machining sequence, be it a single job, a job group, or an entire job list, to a different position. This means, for instance, generating patterns (linear patterns, circular patterns, user-defined patterns), while also supporting multiple clampings, as well as mirroring, regardless of whether entire components or partial mirroring are involved. The most important thing is when the reference geometry is changed, the derived machining steps are adjusted automatically. This associativity reduces programming time and increases security. The advantages apply to symmetrical parts or elements of a part, partially symmetrical parts, or left and right parts. Greater process reliability
Increased process reliability in hyperMILL® Version 2009.1 is the result of a series of measures. These include:
o quick review of the entire part for relevant geometric data, such as minimum radius, planar surfaces, and angles between surfaces
o automatic location of the technologically optimal approach and retract strategy
o a guaranteed offset axially and laterally to the surfaces
o a soft approach "2D machining now also follows this procedure, making it just as convenient as 3D and 5-axis machining," stresses Ruhlich. NC machining simulation contributes to process reliability. The simulation options in the 2009.1 version have been optimized; in particular, the processing time of the simulation has been considerably reduced. Hagen Ruhlich explains: "The situation on the market is such that the part production times in the factory have been considerably reduced in recent years due to modern machines and operational equipment. Now there is now considerable pressure on NC programming to supply programs more quickly. A faster simulation is a step in this direction." These improvements also provide related advantages for the user: a better finish, longer tool life, and greater ease of operation. Optimized machining times
In order to further reduce machining times and door-to-door times, OPEN MIND has come up with, among other things, a new rapid traverse concept and an intelligent job link. The new rapid traverse concept ensures infeed movements take the shortest possible route in vertical and lateral directions. Using intelligent job linking, safe movements are generated between two consecutive operations without going to a home position. Furthermore, this feature prevents retraction movements between operations and also ensures a safe approach for undercut machining, which also results in more efficient workspace utilization. Quick overview of further improvements
OPEN MIND aims to increase both performance and functionality with further improvements:
o Improved deep hole drilling with feedrate reduction for cross-holes
o 3D cutter compensation for Z-level and profile finishing
o 3D rest machining with new functions: Bullnose end mill as reference mill and new strategies for machining ribs
o 2D contour milling: Collision checking of the milling area, with additional finish path
o Automatic approach and retract macros
o Intelligent macros: The machining strategy can be associatively dependent on geometry or programming parameter values
o Playback milling: This enhances 2D machining. The aim of this is to create the simplest 2D applications, for example, for the face milling of clamping surfaces. This allows the user to work very fast, for example, by guiding the tool with the mouse, thereby generating the paths. Thanks to innovations in the software, installation is even easier. In other words, it requires less interaction from the user. And, for the first time, the system has an automatic update function, similar to Windows. Users now have the option to consult the OPEN MIND server as a reference or to set up an internal company reference - a feature of particular interest to larger customers. Depending on the installation guidelines of the customer, both options are possible. Users always have fast and secure access to the most appropriate and up-to-date hyperMILL version. Additional information is available upon request or from our website at
www.openmind-tech.com
hyperMILL Version 2009.1 includes a new programming function for the easy reproduction of identical or similar geometries. New options for automatic programming: Mirroring allows users to conveniently reproduce machining operations for identical, similar and symmetrical geometries. With playback milling, basic milling tasks are carried out with a reliable collision check. Unmachined areas are bypassed along the shortest route. Thanks to the new analysis tools, information relevant to machining can be read out from the model with great ease. About OPEN MIND Technologies AG
OPEN MIND Technologies AG is a leading developer of CAD/CAM software and postprocessors for designing and manufacturing complex moulds and parts. OPEN MIND offers an extensive range of products, from 2D feature-oriented solutions for milling standard parts through to software for 5-axis simultaneous machining. With their hyperMILL® software, which is used in the automotive, tool and mold manufacturing, mechanical engineering and aerospace industries, OPEN MIND Technologies AG is represented in all the important markets in Asia, Europe and North America. OPEN MIND Technologies AG is a Mensch und Maschine company (www.mum.de). Head office: OPEN MIND Technologies AG, Argelsrieder Feld 5, 82234 Wessling, Germany Phone: +49 (0) 81 53 / 93 35 00, Fax: +49 (0) 81 53 / 93 35 01 E-mail: info@openmind-tech.com