CAD Software includes point cloud tools.
Press Release Summary: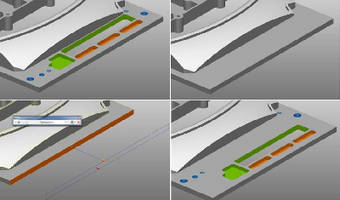 January 28, 2013 - Designed to accelerate production of designs ready for manufacturing, PowerSHAPE CAD Software combines solid, surface, wireframe, and direct modeling with point-cloud and triangle modeling, including tools for live import, repair, and editing of point-cloud data from laser scanners. Users can rewind solid history tree of model to any position with graphical slider. Edits can then be made, either by applying Solid Doctor to repair problematic data or by using direct modeling tools.
Original Press Release
Delcam Improves PowerSHAPE Solid Modelling and Point Cloud Tools
Press release date: January 23, 2013
Delcam has launched the 2013 R2 versions of its PowerSHAPE CAD software family with new tools and enhancements for solid modelling and for manipulating point clouds.  The two sets of developments will speed the production of designs ready for manufacturing, whether starting from imported CAD data or from scanned data.

PowerSHAPE combines solid, surface, wireframe and direct modelling to provide the most comprehensive range of modelling techniques available in a single CAD program.  In particular, the combination of quick and easy direct modelling options, together with powerful and flexible surface modelling, makes PowerSHAPE the perfect choice for design for manufacture, especially when converting product designs into tooling designs.

PowerSHAPE Pro combines these extensive CAD tools with point-cloud and triangle modelling, including tools for the live import, repair and editing of point-cloud data from laser scanners.  Having all the different technologies in the same package reduces the need to transfer data between multiple programs and so streamlines the whole product development process.  The broad set of functionality makes PowerSHAPE Pro ideal for the re-engineering of existing products into improved designs or for creating personalised items, such as medical devices for individual patients or sports equipment for a particular athlete. 

The main enhancement in the new PowerSHAPE release is the ability to rewind the solid history tree of a model to any position using a graphical slider.  Edits can then be made, either by applying the Solid Doctor to repair problematic data or by using the full range of direct modelling tools in PowerSHAPE, without losing the history of the model.  Once the required edits have been completed, the rewind point can be moved or deleted; the complete solid history is then re-built automatically.

A simpler change, that will also save significant amounts of time, is that clicking the right mouse button now has the same effect as pressing "Apply" or "OK" on all forms.  This is particularly useful when carrying out repetitive tasks such as filleting around a complex model.  The user can now select each edge to be filleted, click the right mouse button and then move on to the next edge.  Similarly, a series of holes can be created more quickly just by selecting the position and clicking the button for each hole.

Other solid modelling enhancements include a new dialog for the solid-split command, a more flexible replace-face option that now allows faces of one solid to be replaced with faces from a separate solid, and new hole types allowing faster creation of holes for standard metric and imperial cap-head screws and bolts.

In addition, the Solid Doctor has been made more flexible with the ability to relax or tighten the linking tolerances on specific edges.  This is important for subsequent modelling as tolerance issues can affect the reliability of Boolean operations.

Additional improvements to PowerSHAPE Pro will make re-engineering from scanned data quicker and easier.  A set of new modelling tools will allow users to extract selected points from within a cloud of point data to make a new one, or to combine separate clouds into a single set of data.  In addition, separate clouds, or areas within a cloud, can be given different colours for easier identification.

For further information on Delcam's PowerSHAPE software, please contact:
Peter Dickin, Marketing Manager
Direct phone: 44 (0)121 683 1081 
e-mail: marketing@delcam.com
Delcam plc     
Small Heath Business Park   
Birmingham, B10 0HJ, UK
www.delcam.com