CAD/CAM Software brings intelligence to footwear industry.
Press Release Summary: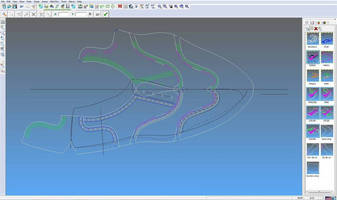 May 1, 2014 - Intuitively, 2014 version of Engineer Pro lets users produce 2D samples and graded footwear patterns for manufacturing while aiding with tooling cost management. Features include anticipated chain highlighting with automatic position adjustment of constrained items; single-click boundary command with support for addition of adjoining regions; automatic mirroring of features via mirrored boundary; and ability to step around all intersections in boundary and apply radii to corners.
Original Press Release
Delcam CRISPIN Adds "Intelligence" to Engineer Pro Footwear Software
Press release date: April 23, 2014
Delcam CRISPIN has released the 2014 version of its Engineer Pro software for pattern development and grading in the footwear industry.  The new version includes a number of enhancements that add "intelligence" to the software and so make it more intuitive and faster to use.  For more details, please go to
http://lz.delcam-crispin.com
Delcam CRISPIN is the world's largest supplier of CADCAM software to the footwear industry.  It is the only supplier able to provide a complete solution for the 3D design and manufacture of lasts, uppers and soles.  Engineer Pro helps users to produce 2D samples and graded footwear patterns for manufacturing in the fastest possible time, whilst also assisting in the management of tooling costs.
One of the key enhancements can be seen when creating a chain from a series of intersecting lines.  Engineer Pro now anticipates the chain that the user wants and highlights it.  Any constrained items, including markers, linked to the chain will react more intelligently during grading and will adjust their positions automatically if the grading operation would make them overlap the boundary of the piece.
The single-click boundary command introduced in the 2013 release of Engineer Pro has been enhanced.  Adjoining regions can now be added to the piece with a single click in the neighbouring area.  In addition, if a part has a mirrored boundary, the features will be mirrored automatically.  Once the piece area has been finalised, edge details can be added around the part simply by dragging and dropping designs from the library of edge templates.
Another time-saving enhancement is the ability to step around all the intersections in the boundary and apply radii to the corners.  Adding these curves in place of sharp corners speeds up and simplifies subsequent cutting operations.  Any sharp corners that need to be retained can be deselected from the boundary.  Chamfers can be added around the boundary in a similar way, with notches being skipped automatically since it makes no sense to apply a chamfer to a notch.  Notches are also skipped if the radius value is too large to be applied.
Another new improvement adds more intelligence to the selection of small items.  If the cursor is positioned close to a small detail like a notch, the system will assume that this is what is to be selected, instead of the user having to zoom in to make the selection.
In addition a "Select All Like" option allows users to choose a particular line type and then select all similar lines automatically.  Once selected, the group of lines can be edited simultaneously.  For example, all margins could be selected and converted from slots suitable for making paper patterns into lines for the final piece.
Finally, more general improvements in Engineer Pro 2014 include improved import of DXF files using the Delcam Exchange data-translation system, plus better support of the pallet milling machines and auto-stitching equipment manufactured by Orisol.
For further information on the Delcam CRISPIN software range, please contact:
Peter Dickin, Marketing Manager
Direct phone: 44 (0)121 683 1081 
e-mail:
marketing@delcam.com
Delcam plc
Small Heath Business Park,
Birmingham, B10 0HJ, UK
www.delcam.com