Product News: Electronic Components & Devices
Bypass IC promotes smarter, safer LED lighting.
Press Release Summary: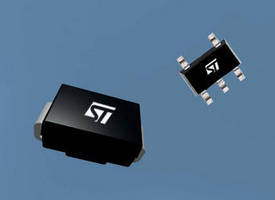 October 22, 2012 - Increasing vehicle light, streetlamp, and emergency light dependability, LBP01 bypasses failed LEDs so lamps comprising multiple channels with several LEDs each can continue producing near-maximum illumination. This low-leakage (100 nA) fault management chip, offering flexibility to use one bypass for every 2 LEDs, can also enhance LED-backlight longevity in LCD panels. Surge protection helps prevent LED failures, and package options include 3.95 x 5.6 mm SMB and 3 x 3.05 mm SOT23-5.
Original Press Release
STMicroelectronics Reveals Class-Leading Fault-Management Chip for Smarter, Safer LED Lighting
Press release date: October 15, 2012
Low-leakage bypass IC enhances power efficiency and lowers cost of ownership in safety-oriented signage, vehicle lamps and street/traffic lighting
Geneva – LED lights for critical applications such as vehicle lights, streetlamps and emergency lights are even more dependable and long-lasting thanks to a new fault-management chip from STMicroelectronics (NYSE: STM), a global semiconductor leader serving customers across the spectrum of electronics applications.
The new chip, the LBP01, is used in lamps that comprise multiple channels each containing several LEDs. Without the LBP01, failure of a single LED can extinguish an entire channel, significantly reducing total light output and demanding early replacement. The LBP01 bypasses failed LEDs so that the lamp can continue producing near-maximum illumination. This improves performance and safety, and can yield valuable savings for operators such as city authorities, as the total cost of replacing a streetlamp can be as much as $700.
The LBP01 delivers some important advantages over comparable devices in the market. By offering the flexibility to use one bypass for every two LEDs, it enables designers to reduce bill-of-materials costs, as competing devices typically can only bypass one LED each. It also provides built-in surge protection to help prevent LED failures occurring.
Markets for safety-oriented LED signage and lighting, including automotive lighting and streetlighting, are predicted to exceed $5 billion by 2015. The LBP01 can also be used to enhance LED-backlight longevity in LCD panels for a wide variety of applications. To maximize design-in opportunities, ST is offering the LBP01 in two package options giving designers the choice of a 3.95 x 5.6 mm SMB package to replace competing devices directly or a 3 x 3.05 mm SOT23-5 package enabling a more compact solution.
Major features of LBP01:
• 100 nA leakage current
• Can be used with LED channel current up to 1 A
• Built-in surge protection meeting IEC 61000-4-2 (8 kV & 15 kV) & IEC 61000-4-5 (1 kV, 24 A)
• Compatible with DC and PWM driving waveforms
• Unidirectional (LBP01-0803SC5) and bidirectional (LBP01-0810B) variants available
The LBP01 is in production now, priced from $0.19 in the SOT23-5 package or $0.21 in the SMB package, for orders over 1,000 pieces. Alternative pricing options for higher quantities are available on request.
About STMicroelectronics
ST is a global leader in the semiconductor market serving customers across the spectrum of sense and power technologies and multimedia convergence applications. From energy management and savings to trust and data security, from healthcare and wellness to smart consumer devices, in the home, car and office, at work and at play, ST is found everywhere microelectronics make a positive and innovative contribution to people's life. By getting more from technology to get more from life, ST stands for life.augmented.
In 2011, the Company's net revenues were $9.73 billion. Further information on ST can be found at
www.st.com
.
For Press Information Contact:
STMicroelectronics
Michael Markowitz
Director Technical Media Relations
+1 781 591 0354
michael.markowitz@st.com