Bulk Terminal Management Software offers configurable workflows.
Press Release Summary: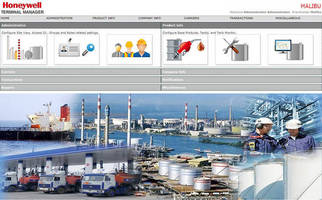 November 27, 2012 - Terminal Manager R620 allows operators to integrate any disparate business, operations, safety, security, and access control system into single web-based control and operating solution. It allows control of product availability and movement, inventory management, loading bay availability, and other parameters. Based on Microsoft® Windows, software also features configurable workflows that minimize set-up time. Integrated device library supports most industry standard field systems.
Honeywell International Inc. - Freehold, NJ
Original Press Release
Honeywell Enraf's Terminal Manager Software Provides Complete Control for Bulk Terminal Operators
Press release date: November 13, 2012
Next Generation Solution Integrates All Terminal Systems for Safer Operations

ISTANBUL – Honeywell (NYSE:HON) today announced its next generation of Terminal Manager server software that will allow bulk terminal operators to integrate any disparate business, operations, safety, security and access control systems into a single control and operating solution.

Built on Honeywell's award-winning Experion® platform, Terminal Manager R620 provides full integration with fire and gas, CCTV, access control, Digital Video Manager and Enterprise Building Integrator systems. The latest release includes the industry's first configurable workflows for quicker set-up, making Terminal Manager R620 the new standard in terminal integration.

"This new release consolidates our latest technological innovations to improve safety, efficiency and reliability into a standard platform," said Richard Thompson, general manager of Honeywell Enraf.

Incorporating more than six decades of experience providing solutions to terminal operators, Honeywell Enraf's Terminal Manager is a web-based solution for managing the entire operation in bulk terminals. Built on Microsoft® Windows, it is designed to monitor and control all critical processes from receipt to dispatch and interfaces with enterprise resource planning (ERP), access control, loading and unloading, workflow management, inventory management, product reconciliation and documentation systems.

The configurable workflows and a modular approach in the latest release significantly reduce the time needed to build the system by minimizing or eliminating the need for customization to specific operations. This enables users to quickly set up the software to give a broad overview and in-depth control of key parameters, such as product availability and movement, tank status, alarms, orders, shipments, shifts, loading bay availability, entries and exits. Other enhanced features in the latest release include an expansion of the supported device library, which allows integration with the majority of industry standard field devices.

"Tighter integration means better control of security, safety, inventory management, reconciliation, order management and workflows. Ultimately, it means operators are more likely to achieve their business goals." Thompson said.

Honeywell Enraf's new Terminal Manager R620 is suitable for all bulk terminals and is compliant with the latest Experion PKS SCADA for medium and large size terminals and with Experion HS for smaller terminals.

For details of Honeywell Enraf's complete solutions for better terminal operations, visit www.honeywellenraf.com .

Honeywell International ( www.honeywell.com ) is a Fortune 100 diversified technology and manufacturing leader, serving customers worldwide with aerospace products and services; control technologies for buildings, homes and industry; automotive products; turbochargers; and specialty materials. Based in Morris Township, N.J., Honeywell's shares are traded on the New York, London, and Chicago Stock Exchanges.  For more news and information on Honeywell, please visit www.honeywellnow.com . Honeywell Process Solutions is part of Honeywell's Automation and Control Solutions group, a global leader in providing product and service solutions that improve efficiency and profitability, support regulatory compliance, and maintain safe, comfortable environments in homes, buildings and industry. For more information about Process Solutions, access www.honeywellprocess.com .

Experion® is a registered trademark of Honeywell International Inc.

Contacts:
Sarah Wise
602-293-1265
sarah.wise@honeywell.com