Product News: Computer Hardware & Peripherals
Broadband VNA System has 4-port measurement capability.
Press Release Summary: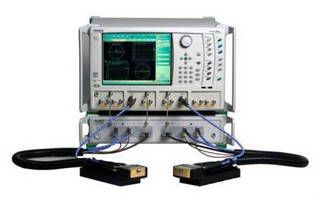 July 3, 2012 - Able to be used for 4-port and differential mm-wave component development, VectorStar® ME7838A Vector Network Analyzer (VNA) features stability, real-time power leveling control, and 70-110 GHz frequency coverage. This test tool can be mounted on probe station using standard positioners and includes MS4640A VectorStar and 3739A test set, which operates mm-wave modules. Dynamic range is 108 dB at 65 GHz and 107 dB at 110 GHz, and measurement speed is 55 ms for 201 points at 10 kHz IFBW.
Original Press Release
Anritsu Company Expands Measurement Capability of VectorStar® 110 GHz Broadband VNA System
Press release date: June 19, 2012
-- Inherent Advantages of VectorStar Platform, Including Best-in-Class Stability, Power, Dynamic Range, and Compact Size, Brought to 4-port Measurement Applications -- MONTREAL -- Anritsu Company (IMS booth #807) announces its VectorStar ME7838A broadband Vector Network Analyzer (VNA) platform now has 4-port measurement capability, bringing the inherent advantages of the VectorStar platform to 4-port and differential millimeter-wave (mm-wave) component development. Featuring best-in-class stability and power level control, as well as the broadest frequency coverage of 70 kHz to 110 GHz in a compact design, the ME7838A offers R&D engineers a highly accurate test tool that reduces measurement times, controls cost-of-test, and helps improve time to market. The ME7838A broadband VNA system utilizes an advanced design that eliminates the need for large, heavy mm-wave modules and coax combiners. This design allows the ME7838A to be mounted on a smaller probe station using standard positioners. Direct connections to the probes can be achieved in a 2 port configuration due to the design, further reducing space requirements, while eliminating high-frequency cable loss and improving the system's raw directivity. In a 4 port system, the compact size of the mm-wave modules means short RF cables can be used to provide best available dynamic range and performance. Because of this, the ME7838A delivers industry-best stability and longer measurement cycles between calibrations. The system configuration includes the MS4640A VectorStar and 3739A test set, which operates the mm-wave modules. In addition to the widest broadband frequency coverage, the ME7838A system has best-in-class RF performance, due to a real-time power leveling control that provides the best power accuracy and stability to power levels as low as -55 dBm. The system has industry-best dynamic range of 108 dB at 65 GHz and 107 dB at 110 GHz, and the fastest measurement speed of 55 ms for 201 points at 10 kHz IFBW. The VectorStar ME7838A broadband VNA system with 4-port measurement capability has a U.S. starting price of $575,850 and is available 12 weeks ARO. About Anritsu Anritsu Company is the American subsidiary of Anritsu Corporation, a global provider of innovative communications test and measurement solutions for more than 110 years. Anritsu provides solutions for existing and next-generation wired and wireless communication systems and operators. Anritsu products include wireless, optical, microwave/RF, and digital instruments as well as operations support systems for R&D, manufacturing, installation, and maintenance. Anritsu also provides precision microwave/RF components, optical devices, and high-speed electrical devices for communication products and systems. With offices throughout the world, Anritsu sells in over 90 countries with approximately 4,000 employees. For more information, visit
www.anritsu.com
. CONTACT: Katherine Van Diepen, Director, Marketing Communications, Anritsu Company, +1-408-778-2000 ext. 1550, katherine.vandiepen@anritsu.com; Patrick Brightman, Compass|SGW, +1-973-263-5475, pbrightman@sgw.com