Broadband Light Sources cover telcom C and L bands.
Press Release Summary: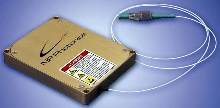 May 31, 2005 - Maintaining spectral and power stability, Scorpion(TM) ASE sources are offered in C-band (1525-1570 nm) and C- and L-band (1525-1610 nm) versions that deliver up to 100 mW output power. They can be supplied with monitoring and control electronics, software, standard pin functions, and MSA-compliant footprint. They are also available as completely enclosed, turn-key, CDRH-compliant benchtop unit or mounted on Windows®-compatible PCI card or 3U Compact PCI card.
Original Press Release
NP Photonics Expands Family of Compact, High-Power Scorpion(TM) ASE Sources
Press release date: May 13, 2005
Broadband Light Sources Ideal for Sensing, Spectroscopy, Scientific Research and Optical Component Testing Applications Tucson, AZ, May 13, 2005 - NP Photonics, a leading supplier of optical components and modules for the sensing, military, industrial and R&D markets, has expanded its family of Scorpion(TM) ASE sources with models that span both the C- and L-bands with even higher output powers. Both C-band (1525 nm -1570 nm) and C&L-band (1525 nm -1610 nm) ASE products now deliver upwards of 20 dBm (100 mW) of output power while maintaining high spectral and power stability in a compact size. The sources are ideal for a variety of sensing and spectroscopy applications and as a light source for interrogating fiber Bragg gratings. With broadband output across the telecommunications C- and L-band, it is also valuable as a light source for passive optical component testing. To facilitate use in research and OEM environments, NP Photonics offers four different form factors for its ASE sources. The ASE sources can be purchased as a compact OEM module with monitoring and control electronics, software, standard pin functions and an MSA-compliant footprint; or as a completely enclosed, turn-key, CDRH-compliant benchtop unit; or mounted on a Windows®-compatible PCI card; or mounted on a 3U Compact PCI card compatible with a PXI/Compact PCI bus and National Instruments chassis. ASE sources start at under $2,000 with delivery in 2 weeks. NP Photonics uses innovative glass and fiber technology to design, produce and deliver a new class of advanced light sources for sensing, medical and R & D markets. The company has developed a broad family of products including narrow-linewidth fiber lasers, ASE sources, fiber amplifiers, and high-power light sources. For additional information contact: Philippe Brak VP of Sales and Marketing NP Photonics PBrak@npphotonics.com Tel. 520 799 7496 Fax 520 799 7403
www.npphotonics.com