Product News: Machinery & Machining Tools
Boring Mills feature integrated contouring head.
Press Release Summary: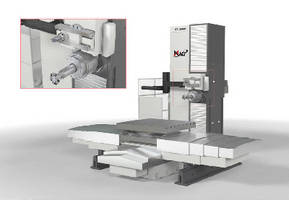 January 10, 2013 - Available for horizontal boring mills in 49.1 and 63 in. table/pallet sizes as well as live-spindle HMCs in 31.5–63 in. pallet sizes, integrated contouring head has standard tool interface and loads tools via machine's automatic tool changer. Absolute positioning slide handles diameters from 2–21 in. as standard, using tools up to 24 in. long. Contouring spindle's U-axis slide stroke provides ability to produce small- or large-diameter features without head changing or manual intervention.
Original Press Release
New Integrated Contouring Head for Boring Mills
Press release date: January 9, 2013
Boring mills and live-spindle HMCs gain speed in the turns with new integrated contouring head introduced at Houstex

Integrated contouring head introduces expanded feature processing flexibility with standard tools, automatic tool change, cycle time reductions and labor savings. Absolute positioning slide handles diameters ranging from 50 to 540 mm (2 to 21 inches) as standard, using tools up to 600 mm (24 inches) long.

MAG combines the reach and power of its boring spindles with a newly developed integrated contouring head, introduced for its horizontal boring mills in 1250 and 1600 mm (49.1 and 63 inch) table/pallet sizes and live-spindle HMCs in 800 to1600 mm (31.5 to 63 inch) pallet size. The new design is being introduced at the Houstex show, with displays and information available at the Hillary Machine booth, No. 1411 (www.hillaryinc.com).

Unique in the industry, the new contouring head has a standard tool interface, which greatly reduces tooling costs, and it loads tools via the machine's automatic toolchanger for faster processing without operator involvement. The contouring spindle's U-axis slide stroke provides the ability to produce small- or large-diameter features without head changing or manual intervention, allowing complex features to be machined in one setup with greatly reduced cycle time and labor. The contouring head can produce features such as bottle bores, valve seats, seal faces, phonographic sealing surfaces, O-ring grooves, straight/tapered threads, chamfers, external profiles and others. It is ideal for single-setup, rough and finish machining of oil and gas parts or any large part that combines bored, milled and turned features.

The integrated contouring head will be available with a standard Kennametal KM80™ or Sandvik Coromant® Capto C8 tool interface. In addition, the live boring spindle can use 50-taper tools as long as 750 mm (29.5 in), and an auto-coupler provides the interface for use of feedout tools, such as programmable boring bars.

According to Pete Beyer, MAG Director, Product Strategy and Product Development: "The contouring head is engineered as a drop-in module that can be added during manufacture or later, as well as removed for service without affecting operation of the boring spindle. A simple shifting mechanism allows it to be powered by the main spindle motor, reducing complexity and cost. In addition to providing greater slide stroke than other machines or add-on contouring heads, our design includes a slide counterbalance to offset centrifugal force, ensuring optimum part roundness and accuracy. Overall, the integrated contouring head is a great advance over current boring mill technology, which would require two auxiliary heads to produce the same diameter range; a head changing system and storage rack; manual tool changes; and proprietary tools to provide the same functionality. We are reducing mechanical complexity, floor space, cycle time, tooling costs, and labor, while improving part quality."

The contouring spindle for both boring mills and HMCs is located immediately above the machine's main spindle, but slightly offset in the Y and W/Z axes to avoid tool interference. Rated power will be 56 kW/75 hp (S6-40%) on boring mills, and 45 kW/60 hp (S6-40%) on HMCs. A touch probe can be used in the boring spindle or on an auxiliary arm for in-process or post-process measurement of part features machined by the contouring spindle. Standard services, such as coolant supply, are plumbed through the contouring head to eliminate manual intervention and ensure maximum tool life. For more information, see www.mag-ias.com.

About MAG
MAG is a leading machine tool and systems company serving the durable goods industry worldwide with complete manufacturing solutions for metal cutting and composites applications. With a strong foundation based upon renowned brands such as Boehringer, Cincinnati, Cross & Trecker, Ex-Cell-O, Fadal, Forest Liné, Giddings & Lewis, Hessapp, Honsberg, Hüller Hille, Lamb, Modul and Witzig & Frank, MAG is recognized as the preeminent provider of tailored production solutions based on state-of-the-art technology. Key industrial markets served include aerospace, automotive and truck, heavy equipment, oil and gas, rail, solar energy, wind turbine production and general machining.

With manufacturing and support operations strategically located worldwide, MAG offers comprehensive lines of equipment and technologies including turning, milling, hobbing, grinding, honing, systems integration, composites processing, cryogenic machining, maintenance, automation and software, tooling and fluids, and core components.

For more information about MAG, please visit: www.mag-ias.com