Product News: Fasteners & Hardware
Bonded Solenoid Plungers improve longevity and performance.
Press Release Summary: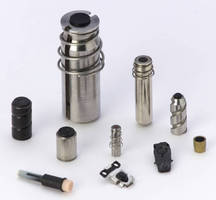 March 7, 2014 - Part of Integrated Molded Components (IMC) offering, bonded solenoid plungers come in numerous designs tested to meet performance requirements for solenoid valves. Products normally combine carrier part made of stainless or standard steel and elastomer material bonded to it. Range of elastomer materials, including magnetically switchable elastomer, is available for all applications. Uses include air and fluid power applications, heating and cooling system regulation units, or power tools.
Original Press Release
Bonded Solenoid Plunger Products from Freudenberg-NOK Sealing Technologies Simrit Now Available in North America
Press release date: February 26, 2014
Product offering helps improve industrial application longevity and performance
Elgin, Ill. — Having already earned a high success rate in Europe, Freudenberg-NOK Sealing Technologies Simrit has announced that its Integrated Molded Components (IMC) portfolio of bonded solenoid plungers is now available to general industry customers in North America, thanks to the addition of technical support that allows the company to produce the products and assist customers locally.
The announcement comes just a week ahead of the company's participation in the 2014 Fluid Power, Power Transmission, Motion Control Exposition (IFPE) and CONEXPO-CON/AGG international technical exposition and conference in Las Vegas from March 4 to 8.
The bonded solenoid plungers, which are available in numerous designs, have been tested to meet rigorous performance requirements for solenoid valves and can be utilized in various industrial applications such as air and fluid power applications, heating and cooling system regulation units or power tools.
"There are various advantages of a bonded plunger solution versus an assembled metal plunger, including improved tolerances that enable optimum switching precision, the possibility of miniaturization, as well as reduced assembly and logistic costs," said Markus Kurz, head of product marketing, Freudenberg-NOK Sealing Technologies Simrit. "To design a bonded plunger solution, we provide engineering support to our customers that includes finite element analysis to simulate load behavior, bouncing and critical forces that can streamline the testing and release process."
Bonded solenoid plungers are normally a combination of a carrier part made of stainless or standard steel and an elastomer material bonded to it, with the grade of elastomer depending on the application. Freudenberg's IMC portfolio offers a wide range of elastomer materials for all applications including a magnetically switchable elastomer that allows various new design or even application solutions.
Typical industrial material requirements include resistance to various media, long lifetime, overall durability and strength in case of high-load applications and more, all of which can be met by the range of materials found in the IMC product offerings.
In addition, a key element to the solutions offered in the IMC portfolio is the RFNTM treatment, a patented process that leads to reduced adhesion to avoid valve sticking, a crucial element for functionality and system performance, as well as reduced permeation for longer lifetime and improved chemical resistance.
The IFPE and CONEXPO-CONAGG exposition will feature more than 2,800 exhibitors from around the globe in markets as diverse as aerospace, agriculture, construction, chemical and petroleum processing, mining, factory automation, engineering services and distribution. Equipment demonstrations and educational seminars will also be presented. The company will have some of its newest technology on display at booth #81330 at the event.
Among the innovative technologies that Freudenberg-NOK Simrit will showcase:
• Its "next-generation polyurethane" that sets new standards in the sealing industry due to its resistance to a variety of media, temperatures and environments;
• Its range of fluid management technologies developed in response to customer needs and proven to increase a product's lifespan even in extreme environments;
• A portfolio of power generation and transmission innovations that have been developed and tested to keep customers' equipment profitable no matter the conditions;
• A variety of mobility sealing innovations focused on emissions reduction in addition to performance; and
• An innovative, patented curve gasket that supports the focus on lightweight designs and offers greater stability, lower reaction forces and wider compression ranges.
Media Contacts:
Cheryl Eberwein, Director, Media Relations
Office: +1 734 354 7373
E-Mail:
cheryl.eberwein@fnst.com
Leslie Dagg / Adriana Van Duyn, Bianchi PR
Office: +1 248 269 1122
E-Mail:
ldagg@bianchipr.com
/
avanduyn@bianchipr.com
About Freudenberg-NOK Sealing Technologies
Freudenberg-NOK Sealing Technologies is the Americas joint venture between Freudenberg and Co. in Germany and NOK Corp. in Japan. Freudenberg-NOK is a leading producer – through its Automotive, Merkel, Process Seals and Simrit sales channels – of advanced sealing technologies for a variety of markets including: aerospace; agriculture;  appliance; automotive; construction; diesel engine; energy; food and beverage; heavy industry; and pharmaceutical. Founded in 1989 under the legal name Freudenberg-NOK General Partnership, Freudenberg-NOK is headquartered in Plymouth, Mich. and operates more than 20 facilities across the Americas. For additional information, please visit
www.fnst.com
.