Product News: Machinery & Machining Tools
Blasting Nozzle handles wire stripping applications.
Press Release Summary: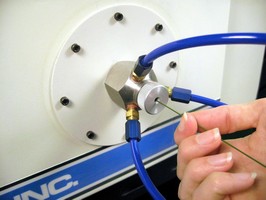 November 21, 2007 - Ring Nozzle focuses multiple streams of abrasive by spreading abrasive flow uniformly over circular cross section, eliminating need for rotation of part as required in single nozzle setups. Powered by DirectFlo(TM) or PowerFlo® micro-abrasive blasting machines, it can be integrated into existing Comco micro-abrasive blasting system, or can be mounted to Comco WorkStation with accessory kit. Interchangeable guide tubes enable unit to be used on range of wire sizes.
Original Press Release
Comco Introduces Ring Nozzle for Wire Stripping Applications
Press release date: October 30, 2007
October 30, 2007, Burbank, CA - Comco Inc., industry leader in the manufacture of micro-abrasive blasters, has developed a new nozzle that focuses multiple streams of abrasive over a circular cross section to more effectively process wire applications. Micro-abrasive blasting is frequently used to treat or texture fine wires and tubes because of its ability to selectively remove material. Sections of polymer coated guidewires and catheters are often removed with microblasting to improve bonding. Comco's new Ring Nozzle improves this process by spreading the abrasive flow uniformly over a circular cross section. This eliminates the need for rotation of the part as required in single nozzle setups. It also creates a more consistent finish than multiple-nozzle fixtures. The Ring Nozzle is powered by Comco's larger micro-abrasive blasting machines, the DirectFlo(TM) or PowerFlo®. Interchangeable guide tubes enable the Ring Nozzle to be used on a range of wire sizes. The Ring Nozzle can be easily integrated into an existing Comco micro-abrasive blasting system; it can be mounted to a Comco WorkStation with an accessory kit. Comco is the industry leader in micro-abrasive blasting technology and creator of the award-winning MicroBlaster®. Established in 1968, Comco's innovative thinking and high quality standards have been key to Comco's success. Micro-abrasive blasters are used for deburring, surface preparation, selective cleaning, material removal and focused cutting in a variety of industries including medical manufacturing, microelectronics, precision machining and the aerospace industry. Comco prides itself on its high quality products and excellent customer service and tech support. For more information about Comco visit:
www.COMCOinc.com
. Company Name: Comco Inc. Address: 2151 N. Lincoln St. City: Burbank State: CA Zip: 91504 Country: USA Phone: 818-841-5500 URL:
www.COMCOinc.com
Contact Name: Kim Gardner Title: Marketing Coordinator E-mail: marketing@comocinc.com