Product News: Electronic Components & Devices
BGA Socket has temperature range of -55 to +180°C.
Press Release Summary: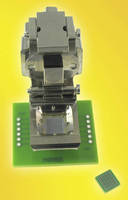 December 13, 2012 - Mounted using supplied hardware on target PCB without any soldering, CBT-BGA-7010 accommodates BGA, 7.8 x 8 mm, 0.65 mm pitch, 110 position, 10 x 11 ball array package for purposes of testing. Contactor is stamped spring pin with 26 g actuation force per ball and cycle life of 500,000 insertions. Self inductance of contactor is 0.88 nH, insertion loss is less than 1 dB @ 15.7 GHz, and capacitance is 0.097 pF. Current capacity of each contactor is 4 A @ 80°C temperature rise.


Ironwood Electronics, Inc - Burnsville, MN
Original Press Release
Socket Your 110 BGA Using Extreme Temperature Socket with Superior Electrical Performance
Press release date: November 1, 2012
EAGAN, MN -- Ironwood Electronics recently introduced a new BGA socket addressing high performance requirements for testing BGA devices - CBT-BGA-7010. The contactor is a stamped spring pin with 26 gram actuation force per ball and cycle life of 500,000 insertions. The self inductance of the contactor is 0.88 nH, insertion loss < 1 dB at 15.7 GHz and capacitance 0.097pF. The current capacity of each contactor is 4 amps at 80C temperature rise. Socket temperature range is -55C to +180C. Socket also features a floating guide for precise ball to pin alignment. The specific configuration of the package to be tested in the CBT-BGA-7010 is a BGA, 7.8x8mm, 0.65mm pitch, 110 position, 10x11 ball array. The socket is mounted using supplied hardware on the target PCB with no soldering, and uses clearances in the footprint for nearby passive components. To use, place the BGA processor into the socket base and lock the clamshell socket lid on to the base using the latch. This socket can be used for hand test and quick device screening applications with the most stringent requirements.

Pricing for the CBT-BGA-7010 is $639 at qty 1 with reduced pricing available depending on quantity required.

For a high resolution photo see: http://www.ironwoodelectronics.com/press/PressReleasePhotos/C11987a_highres.jpg

Feel free to call or email if you have questions.
Ila Pal • VP Marketing • Ironwood Electronics • 1335 Eagandale Ct • Eagan • MN 55121
High Performance IC Sockets and Adapters • ISO 9001:2008 • www.ironwoodelectronics.com
T: 800-404-0204 • M: 651-900-1471 • ila@ironwoodelectronics.com • Skype: ila.pal • www.linkedin.com/in/ilapal