Product News: Test & Measuring Instruments
Benchtop AOI System decreases failure rates, increases yields.
Press Release Summary: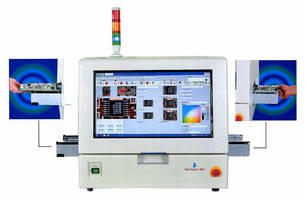 January 30, 2013 - Targeting low- to mid-volume electronics assemblers, Sherlock-300F delivers comprehensive defect coverage, even on densely populated boards with components as small as 01005s. Assemblies are fed via built-in conveyor, minimizing footprint and allowing display to be positioned directly in front of user. All program setup and operation is done on display using multi-touch gestures, and inspection programs are able to be generated from pick and place files in addition to CAD data import.
Original Press Release
Decrease Failure Rates and increase Yields with Advanced Sherlock-300F Benchtop AOI System
Press release date: January 29, 2013
Manncorp introduces the new Sherlock-300F, a benchtop automated optical inspection (AOI) system that has a radical new design with advanced features to provide comprehensive defect coverage even on densely populated boards with components as small as 01005s.

Sherlock-300F eliminates the drawer design typical of benchtop AOI systems. Instead, assemblies are fed into the machine on the built-in conveyor. This minimizes machine footprint and allows the system's oversized display to be positioned directly in front of the user rather than set back or off to the side.

All program setup and operation is done directly on the display using multi-touch gestures, similar to using an iPad®. Unlike the iPad®, the Sherlock-300F's touchscreen is responsive even through gloves, a requirement for many electronics manufacturing environments.

Inspection programs are able to be generated from pick and place files in addition to CAD data import, simplifying the process for manufacturers who don't have access to the PCB assembly's CAD data file.

Geared toward low- to mid-volume electronics assemblers who require close-to-0% failure rates for military, medical and other high-end customers and products, the Sherlock-300F helps manufacturers decrease their failure rates and move yields from an average of 60-70% to nearly 100%.

Sherlock-300F can be used after stencil printing for 2D solder paste inspection, after placement for component presence, placement and value verification, and after reflow or wave soldering for solder joint and final assembly inspection. Single and double-sided surface mount, through-hole and mixed-technology assemblies are handled equally well. The software automatically adjusts for board warp and flexible substrates, eliminating the need for time-consuming manual corrections.

The Sherlock-300F is priced under $40,000 and for a limited time includes two days of installation and on-site training, free, anywhere in the U.S.A., Canada and Mexico.

Learn more at www.manncorp.com/aoi/sherlock-300f/

Sales and support offices in three locations: East (Willow Grove, PA), West (San Diego, CA) and Mexico. www.manncorp.com

Paulette Kevolic
Marketing Coordinator
215-830-1200
pkevolic@manncorp.com