Bench Top Power Supplies provide frequency conversion.
Press Release Summary: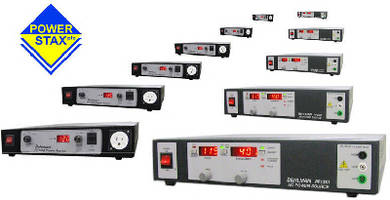 January 30, 2014 - Targeting mission-critical industrial and military powers system, Behlman PF1350 offers 3 fixed, selectable output frequencies of 50, 60, and 400 Hz, along with 2 voltage ranges of 0–135 and 0–270 Vac. Unit provides up to 1,350 Va of AC power from local power inputs of 95–270 Vac. In addition to 100% power factor rating, power supply delivers ±0.7% load regulation and ±0.1% line regulation. Behlman PF1351 offers same performance, but with continuously variable output frequency from 45–500 Hz.
Original Press Release
AC Frequency Converter Power Supplies
Press release date: January 23, 2014
Variable or fixed voltage
Sophisticated protection functions
±0.7% load regulation
±0.1% line regulation
Powerstax, specialist provider of highly optimized power sources, now presents its customer base with the Behlman PF1350 and PF1351. Targeting mission-critical industrial and military powers system designs, these compact, power factor-corrected bench-top units differentiate themselves from competing AC frequency products on the market through their compelling mix of performance, flexibility and cost effectiveness.
The PF1350 has three fixed, selectable output frequencies; 50Hz, 60Hz and 400Hz, along with two voltage ranges; 0 to135VAC and 0 to 270VAC. These units offer up to 1350VA of AC power from local power inputs between 95VAC and 270VAC. In addition to their 100% power factor rating, they deliver a clean sine wave output with strong line and load regulation, plus high conversion efficiency levels (normally above 75%) and low total harmonic distortion (1.5% at full load). A unique overload protection system is incorporated, which folds back the voltage to maintain the rated output current without any waveform distortion occurring. A further protection mechanism latches the output open to safeguard the load from harm if short circuit conditions arise, while an internal temperature sensor is also incorporated to prevent heat damage.
Similar to the PF1350, the PF1351 gives engineers the same operational performance but with some additional functionality included. It features a continuously variable output frequency range from 45Hz to 500Hz, with a 45Hz to 1000Hz output frequency range version also available. These units can be controlled from their front panels or remotely using an optional RS232 or IEEE-488 interface.
Both the PF1350 and PF1351 power sources are supplied in compact 3.5" (88.9mm) profile enclosures that are easily and economically converted for rack mounting. The units are CE-marked, so they can be employed across all EU member states. An operational temperature range of 0°C to 50°C is supported.
About Powerstax:
Powerstax specialises in customised and configurable system-level power for demanding environments. Products include AC-DC power supply units, DC-DC converters and 19" rack mount power solutions. It also offers highly compact and ruggedized package solutions for applications that are space-critical or situated in harsh environments. The company's patented power technology has been deployed in military vehicles, defence, avionics, high-end industrial, oil & gas, medical, railway and commercial power systems across the globe. Through the acquisition of the Drake brand of transformer rectifiers, Powerstax is able to provide robust power up to 1MW to water treatment & purification, corrosion prevention and metal finishing applications.
For more information contact:
Powerstax
Unit 5, Armstrong Mall, Southwood Business Park, Farnborough, GU14 0NR, UK
Tel: +44(0)1252 407800         
Fax: +44(0)1252 407810 
Email:
sales@powerstaxplc.com
Website:
www.powerstaxplc.com