Product News: Electronic Components & Devices
Battery Shunt Resistor has molded enclosure with 4-pin connector.
Press Release Summary: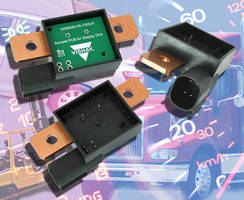 November 26, 2012 - Designed to facilitate PCB connection to shunt resistor assembly, WSBM8518 Power Metal Strip® battery shunt resistor combines 36 W power capability in 8518 package size with 100 嵽 resistance. All-welded construction allows operation with continuous currents up to 600 A, and resistor provides accurate data to determine battery charge and discharge with tolerance of 5.0%. Inductance values are less than 5 nH and thermal EMF is less than 3 µV/°C.
Original Press Release
Vishay Releases New 36 W Battery Shunt Resistor with Molded Enclosure
Press release date: November 21, 2012
Featuring High 36 W Power Capability and Low Resistance of 100 µΩ in 8518 Package Size
MALVERN, Pa. – Vishay Intertechnology, Inc. (NYSE: VSH) today announced a new Power Metal Strip® battery shunt resistor featuring a molded enclosure with a four-pin connector. Providing easy PCB connection to the shunt resistor assembly, the WSBM8518 allows design engineers to focus on circuit development instead of PCB connection issues.
Built using proprietary processing techniques, the WSBM8518 combines a high 36 W power capability in the 8518 package size with extremely low resistance of 100 µΩ. This provides increased accuracy in battery shunt applications for gas, diesel, hybrid, and electric cars and trucks, as well as electric forklifts, utility trucks, and other heavy industrial applications.
With a tolerance of 5.0 %, the new resistor provides more accurate data to determine battery charge and discharge, thus helping designers meet specific customer battery-management requirements. Its molded enclosure simplifies designs to reduce overall solution costs.
The WSBM8518 features an all-welded construction that allows operation with continuous currents as high as 600 A. The resistor offers low inductance values of < 5 nH and a low thermal EMF of < 3 µV/°C. The device is lead (Pb)-free and RoHS-compliant.
Samples and production quantities of the new battery shunt resistor are available now, with a lead time of 12 to 16 weeks for larger orders. Pricing for U.S. delivery only is $5.50 each in 10,000-piece quantities. Follow Power Metal Strip resistors at http://twitter.com/vishayindust.
Vishay Intertechnology, Inc., a Fortune 1,000 Company listed on the NYSE (VSH), is one of the world's largest manufacturers of discrete semiconductors (diodes, MOSFETs, and infrared optoelectronics) and passive electronic components (resistors, inductors, and capacitors). These components are used in virtually all types of electronic devices and equipment, in the industrial, computing, automotive, consumer, telecommunications, military, aerospace, power supplies, and medical markets. Vishay's product innovations, successful acquisition strategy, and "one-stop shop" service have made it a global industry leader. Vishay can be found on the Internet at
www.vishay.com
.
Power Metal Strip is a registered trademark of Vishay Intertechnology, Inc.
Vishay Contact:
Andrew Post
Senior Manager, Global Communications
Vishay Intertechnology, Inc.
Telephone: 1 610 251-5287
Fax: 1 610 889-9429
Email: andrew.post@vishay.com
Link to datasheet:
www.vishay.com
/doc?31094  (WSBM8518)
Link to product photo:
www.flickr.com/photos/vishay/8199924243