Product News: Electrical Equipment & Systems
Battery features thin plate, pure lead design.
Press Release Summary: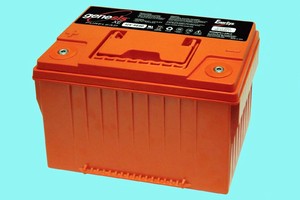 October 17, 2006 - With deep cycle capability of 400 cycles at 80% DOD and deep discharge recovery of up to 90% recharge in less than an hour, Genesis XE60 is suited for applications requiring high power in short duration. Tolerant against high levels of shock, heat, and vibration, 12 V unit weighs 53 lb and measures 10.85 x 6.99 x 7.82 in. VRLA AGM battery has M6 female no-maintenance terminals, and nominal capacity of 62 A-hr, 3,100 A Typ short-circuit current, and 60 lb-in. torque.
Original Press Release
Enersys' Thin Plate, Pure Lead Genesis XE Battery Demonstrates High Discharge Capability
Press release date: October 4, 2006
READING, Pa., October 2006 - EnerSys, the world's largest manufacturer, marketer and distributor of industrial batteries, today announced a new addition to its line of Genesis XE batteries. The Genesis XE60, featuring a thin plate, pure lead design, offers a high rate of discharge making it ideal for applications requiring high power in a short duration such as UPS, computer backup and other electronics applications. The battery is also particularly useful in demanding environmental and cycling applications such as hybrid electric vehicles (HEVs) and alternative energy solutions. The 12-volt XE60 offers more power in less space than conventional batteries. It measures 10.85" L x 6.99" W x 7.82" H (275.6 mm x 177.5 mm x 198.6 mm) and weighs 53 lbs. Because of its rugged construction, the battery can be installed in any orientation except inverted and is tolerant against high levels of shock, heat and vibration. The XE60 is also approved by US DOT and IATA as non-hazardous and non-spillable for safe shipping. Some of the performance features of the XE60 include a deep cycle capability of 400 cycles at 80 percent depth of discharge (DOD), and a superior deep discharge recovery of up to 90 percent recharge in less than an hour. The battery is a valve-regulated lead-acid (VRLA) absorbed glass mat (AGM) battery, has M6 female no-maintenance terminals, and a UL94 V-O flame retardant case and cover. Nominal capacity for the XE60 is 62 Ah, internal resistance is 2.5W, typical short circuit current is 3,100 A, and torque is 60 inch-lbs (6.8 Nm). The battery has a wide operating temperature of -40°C to 80°C (-40°F to 176°F) with a metal jacket, and boasts a two-year shelf life at 25°C (77°F). Pricing for the Genesis XE60 starts at $248.95. Delivery is eight weeks ARO. For more information please visit enersysreserverpower.com ABOUT ENERSYS: EnerSys, the world leader in stored energy solutions for industrial applications, manufactures, distributes and services reserve power and motive power batteries, chargers, power equipment, and battery accessories to customers worldwide. Reserve power batteries are used in the telecommunications and utility industries, uninterruptible power suppliers, and numerous applications requiring standby power. The company also provides aftermarket and customer support services to its customers from over 100 countries through its sales and manufacturing locations around the world. More information regarding EnerSys can be found at
www.enersys.com
. Dana Kowalski MarComm Supervisor Tel: 800/538-3627 Fax: 610/372-8613 E-mail: kowalskid@enersys.com