Product News: Material Handling & Storage
Bag Gripper handles up to 50 lb loads.
Press Release Summary: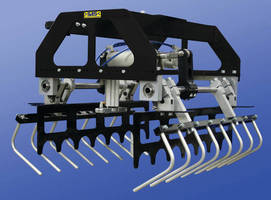 December 3, 2012 - Using stainless steel fingers for their strength and resistance to harsh manufacturing environments, FBG-22 offers manual adjustment for bag widths from 290–450 mm and features spring-return aluminum decking plates to guide bag. Decker mechanism, designed into tool, facilitates accurate bag drop once positioned over pallet, and other design features include rugged aluminum weldment main frame, ultrasonic bag presence sensor, and 9.5 mm dia solid aluminum fingers with ball-nose ends.
Original Press Release
SAS Automation Introduces FBG-22 Bag Gripper
Press release date: November 17, 2012
>SAS< Automation recently introduced a new smaller bag gripper for a variety of bag handling applications including palletizing woven cloth, plastic or paper bags containing heavy products including grains, chemicals, dog food, minerals and plastic resins. This innovative gripper uses stainless steel fingers for both strength and their ability to withstand harsh manufacturing environments. A decker mechanism is designed into the tool to facilitate an accurate bag drop once positioned over the pallet -- crucial for a tightly packed pallet.
Significant Features:
• Lightweight and rugged aluminum weldment main frame
• Manual adjustment for different bag widths from 290-450mm
• Ø9.5mm solid aluminum fingers with ball-nose ends
• Spring-return Aluminum Decking Plates to guide the bag
• Top-mounted Bag Clamp
• High-flow pneumatic solenoid valves
• Ultrasonic bag presence sensor
• Custom adaptor plate to accommodate any robot
• Handles bag weights up to 22kg (50 pounds)
• Weighs 17kg w/o slip sheet option (20kg with)
"This new lightweight bag gripper is a unique tool for palletizing heavy bags," said Rob Dalton, General Manager for >SAS< Automation. "This gripper is capable of handling bags of multiple weights/sizes," said Dalton.
About  >SAS< Automation
>SAS< is a leading manufacturer and supplier of modular Robotic End-of-Arm Tooling (EOAT), components, and gripper systems, capable of servicing any part and any robot.  ISO Certified.  Specialists in Robotic End-of-Arm Tooling, custom gripper systems, and automation equipment for automotive, assembly, commercial baking, general material handling, plastics, metal handling, packaging, and palletizing industries.
Sales, service & support to: Asia, Europe, Canada, Mexico, South America, USA.
Company Contact:
Robert Dalton
rdalton@sas-automation.com
SAS Automation, LLC
1200 South Patton Street
Xenia, OH 45385 USA
TEL: +1 937- 372-5255
FAX: +1 937- 372-5555
getagrip@sas-automation.com
www.sas-automation.com
Media Contact:
Barbara Castilano
+1 937-436-2648
bcast@moptions.com
Marketing Options LLC
Marketing Consulting Services
7986 Clyo Rd. Ste B.
Dayton, OH 45459
Tel: 937/436-2648
Cell: 937/654-4614
Fax: 937/436-6156
SKYPE: barb.castilano
Email: bcast@moptions.com
Web:
www.moptions.com