Automation Software offers ergonomic interaction and control. .
Press Release Summary: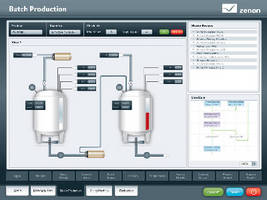 February 17, 2014 - With zenon v7.11, various screen types can be combined in one frame as required, such as current process data, Alarm Message List, and recipe administration. User details from Windows domain can be created, edited, or deleted directly in zenon Runtime. All contents in global symbol library are protected, saved via backups, and can be centrally distributed. Extended lot filter can be used for several archives and across plant so that user can access data that is relevant for particular batch only.
Copa-Data USA Corp. - Princeton Junction, NJ
Original Press Release
COPA-DATA Introduces the New Zenon 7.11 Software Release
Press release date: February 17, 2014
Targeting usability, batch production and the energy industry:
In March 2014 COPA-DATA will bring version 7.11, a new update of its automation software zenon, to the market. zenon 7.11 offers innovations and improvements, particularly in the ergonomic interaction and control, in lot-based production and process control, as well as in the energy industry.
As in previous versions, ergonomics is where the main focus of zenon 7.11 lies. This means that during implementation particular aspects of the new functionalities were taken into consideration, such as user-friendliness, simplification, relevance, data availability, data aggregation, performance improvements and efficiency. COPA-DATA Product Manager, Reinhard Mayr, emphasizes: "The best software is useless if users cannot happily and efficiently work with it. We take this message as the basis for our software development. This means it is no longer just about offering new functionalities because there is a demand for them on the market. The value lies much more in how the new functionalities are implemented, so that the user can be best supported in his role and with his individual tasks and requirements. The 'how' is what makes the big difference then. zenon 7.11 is therefore COPA-DATA's next contribution to improved ergonomics in industry practices."
Improved ergonomics and usability
The new "faceplate" screen type in zenon allows for reduced engineering efforts, improved flexibility and a better overview. Various screen types can therefore be combined in one frame as required, such as: current process data, an Alarm Message List and recipe administration. The operator is thereby offered more and diverse information in parallel for a specific automation component. The same frame can be launched as often as required and several faceplates can be connected on a screen. It is also possible to repeatedly use the same screen type in a faceplate.
Furthermore, ergonomic working is enhanced through the simplified user administration in zenon 7.11. User details from the Windows domain can now be maintained – created, edited or deleted – directly in the zenon Runtime. It is therefore possible to save all HMI/SCADA relevant information to the Windows user. Central security rules and guidelines from corporate IT can also be fully adopted in this way. Furthermore, users can now login centrally for all projects via an integration project. These innovations significantly reduce engineering and administration efforts.
In order to give even better support for central engineering approaches, a global symbol library is included in the new zenon version. In contrast to the already existing symbol library in zenon, all contents in the global symbol library of the global project are protected, saved via backups, and can also be simply and centrally distributed. All currently loaded projects are automatically updated when changes to elements residing in the global symbol library have been carried out. Users profit from time savings and reduced maintenance efforts.
COPA-DATA developers have also paid particular attention to the automatic data aggregation in zenon 7.11. The philosophy behind these new functionalities is to assist the user and so let him concentrate on his main tasks. The new version offers predefined compression profiles for the Historian in zenon Editor, which considerably supports the project engineer when deciding between the countless possibilities to create a well-functioning archive structure. Also aggregated archives are created automatically. Furthermore, individual profiles can be defined and reused later. zenon offers ergonomic support with data aggregation mechanisms, even during Runtime. When it comes to trend indicators the system automatically selects the relevant data source for the given time frame, in order to guarantee the best data quality and performance.
Innovations for the process industry
The new zenon version brings several improvements, particularly for lot-based production, which is popular in COPA-DATA's key industries of Food & Beverage and Pharmaceutical. Normally, numerous batches are produced in parallel and at different equipment, which requires a high level of flexibility in production, data recording and evaluation. The extended lot filter in zenon can support here. This can be used for several archives and across the plant so that the user can clearly access the data that is relevant for a particular batch only.
Also, to streamline engineering efforts, the grouping of phases in recipes of the Batch Control Module has now been made possible. Each phase is assigned to an individually configurable control strategy, which is progressively set up by zenon. For example, this is how the phase "temperature adjustment" is formed from the control strategy "heating", "hold temperature" and "cool down". In previous versions each individual step had to be configured as an individual phase, which was considerably more time consuming. An additional function in this area is offered by new initial parameters. These are set at the beginning of production and the control system monitors if everything is in order. If obstacles or weak-points are identified the recipe will not be executed in order to avoid errors in production.
In the strictly regulated pharmaceutical industry it is particularly important to create and document processes comprehensively. This requirement is now met by zenon with a new versioning. Each master recipe receives a version number which can also be applied to the filter mechanisms. It is thereby assured that only one released version of a recipe is available at a time and that this is also easily traceable via a range of templates.
The equipment model, most widely-used in the process industries, can now also be more heavily utilized in zenon Runtime. The equipment model can be visualized as a screen via a new screen type and be additionally furnished with interaction possibilities. Each equipment level can be linked with any desired function, so that a context-related interaction – for example the acknowledgment of all alarms from the equipment model – is available for the first time.
Innovations for the energy industry
At the center of the product development for energy automation were functional enhancements to fulfill the requirements of the IEC 61850 Edition 2.
A list of active and inactive interlocks enable a better overview for command. Users can therefore quickly recognize which conditions have not been fulfilled in order to carry out switching operations.
COPA-DATA leads the way on the subject of security with the redesign of the redundancy concept in zenon. The roles of the dominant server and the standby server have been primarily assigned or switched according to availability of the computer up until now. A newly implemented redundancy mode ("rated") now enables the roles of the server and standby server to be allocated according to which computer has the better connection to the process and can, in turn, deliver a higher data quality. The choice between dominant and non-dominant redundancy is new as well. Users therefore now have a wide range of opportunities available in order to guarantee breakdown, functional and operational security.
zenon 7.11: additional innovations
• zenon Runtime as a Windows service: With immediate effect zenon can now be used as a Windows service without the requirement for a Windows login on the server operating system. This brings advantages particularly in the areas of maintenance and security, as HMI/SCADA servers can be seamlessly embedded into existing IT infrastructures.
• Mobile applications: The Everywhere App by zenon as well as the Everywhere Server have been updated. The integrated security system and the data access to the core system have been enhanced. The new additions can be downloaded via updated apps in the app stores. COPA-DATA is also open to project engineers developing their own apps or integration in web-based solutions established around zenon.
• Report Viewer file handling: zenon 7.11 now enables RDL files to be automatically created, from which data sets can then be generated. Data sets can be imported from available report templates into the zenon function. Project engineers can thereby work with the zenon Report Viewer quickly and simply, even without the appropriate know-how of the necessary Microsoft technology.
• Dynamic Gantt chart contents: With immediate effect data from string archives in trend graphs can be displayed in the Gantt chart as well. This enables individual texts to be collected in the Runtime and graphically analyzed over time. Hence, data acquisition and analysis becomes even more flexible.
• Performance improvements: Optimization is also seen, for example, in the time for connecting the Worldview as well as the time for creating Runtime files.
• New drivers: CoDeSys version 3.0 driver, Process Gateway Modbus supports variables from multi-hierarchical projects, Beckhoff TC ADS driver for zenon Logic, zenon Logic CIFX 50-DP Profibus driver from Hilscher.
zenon 7.11 is fully compatible with previous versions. Existing projects can be easily adopted – simply by mouse click and without loss of data.
On COPA-DATA
COPA-DATA is technology leader for ergonomic and highly dynamic process solutions. The company, founded in 1987, develops the software zenon for HMI/SCADA, Dynamic Production Reporting and integrated PLC systems at its headquarters in Austria. zenon is sold through its own offices in Europe, North America and Asia, as well as partners and distributors throughout the world. Customers benefit from local contact persons and local support thanks to a decentralized corporate structure. As an independent company, COPA-DATA can act quickly and flexibly, continues to set new standards in functionality and ease of use and leads the market trends. Over 80,000 installed systems in more than 50 countries provide companies in the Food & Beverage, Energy & Infrastructure, Automotive and Pharmaceutical sectors with new scope for efficient automation.
On zenon
zenon is COPA-DATA`s highly versatile product family for industry-specific ergonomic process solutions: from sensors through to ERP. It consists of zenon Analyzer, zenon Supervisor, zenon Operator and zenon Logic. zenon Analyzer provides templates to create tailor-made reports (e.g. on consumption, downtimes, KPIs) based on data from IT and automation. zenon Supervisor, an independent SCADA system, allows comprehensive process monitoring and control of redundant systems, even in complex networks and with secure remote access. zenon Operator guarantees, as an HMI system, safe control of machines and simple, intuitive operation – including Multi-Touch. zenon Logic, which is an integrated IEC 61131-3-based PLC system, allows optimum process control and logical data processing. As a platform-independent portfolio for process solutions, the zenon Product Family integrates smoothly into existing automation and IT environments and provides set-up wizards and templates to enable easy configuration and simple migration from other systems. The principle of "setting parameters instead of programming" is a characteristic feature of the zenon Product Family.
Your contact:
David Brennan
Marketing Manager
COPA-DATA USA Corp.
186 Princeton-Hightstown Rd.
Princeton Junction, NJ 08550
(609) 385-0846
David.brennan@copadata.com