Product News: Controls & Controllers
Automation Controller enables careful surface processing.
Press Release Summary: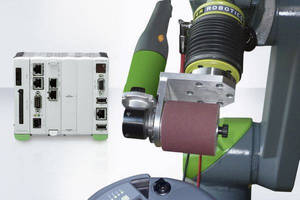 December 21, 2010 - Active Contact Flange, which features sensitive sensor and actor elements that can be employed between tools and handling systems as well as in processing machinery, enables automatic, touch-sensitive surface processing in combination with accelerated and targeted force regulation. Pneumatic elements provide immediate and independent compensation for fluctuations in contact pressure to 500 N max without need to wait for reaction from superordinated control.
Original Press Release
The Active Contact Flange;The Sensitive Automation Solution for Careful Surface Processing and Gentle Material Handling
Press release date: December 16, 2010
The Active Contact Flange represents an innovative combination of highly sensitive sensor and actor elements, which can be employed between tools and handling systems, and in processing machinery. As a result of the Active Contact Flange, for the first time automatic, touch-sensitive surface processing is possible in combination with lightning fast and targeted force regulation. The precision and reaction speeds of standard load cells are exceeded several times over. Pneumatic elements provide immediate and independent compensation for fluctuations in contact pressure of up to a maximum of 500N without the need to wait for a reaction from the superordinated control. Moreover, the special mechanical design of the Active Contact Flange minimizes the risk of workpiece damage due to tool collisions in a highly effective manner. Even in the case of sudden disruptive influences, the system reacts at great speed and gives way.

In combination, these capabilities allow the safe and favourably priced automation of activities, which to date could only be automated following major investments.

Numerous areas of application One typical application is the automation of surface treatment procedures such as sanding, polishing, smoothing, stripping, cleaning and deburring. The sensitive handling of the workpiece is of decisive importance in this regard, as the danger of damage to the processed material as a result of uncontrolled contact pressure is especially great.

The gentle application of force by the Active Contact Flange is also the key to success during bonding, joining and the examination and testing of surfaces, and guarantees top quality results.

This also applies to complex assembly applications, e.g. within moving vehicle passenger compartments on automotive industry production lines, as well as automatic machine handling and the highly accurate pick-and-place of sensitive objects.

Available as a turnkey product and an individual system solution The Active Contact Flange is on offer as a turnkey product solution, which comes with a modern KEBA control unit and can be employed immediately for universal applications. Innumerable possibilities for individual supplements are available. The program logic can be quickly and simply extended in the IEC program language. Furthermore, as a result of common communications interfaces and the standardized flange connection, quick and straightforward integration into existing control systems is guaranteed. Data concerning the actual force, position and contact situation is provided on a permanent basis. Therefore a comprehensive process parameter logging is secured. Separate process and quality controls are superfluous, as all working phases are entirely reproducible.

In addition, systems solutions that can be customized to match the respective application are also on offer. These are fitted with proven KEBA control systems. Scalable hardware, an individually adjustable HMI including visualization and comprehensive robotic features facilitate both simple integration into existing control systems and stand-alone operation without superordinated controls. An extensive set of automation components permits the rapid and easy design of manifold automation solutions.

The KEBA Active Contact Flange provides the initial breakthrough to touch-sensitive, automatic surface processing and mechanical material handling.

KEBA Industrial Automation The technology expert for optimized branch solutions KEBA AG is an internationally successful high-tech company based in Linz, Austria. In line with its credo, "Automation by innovation", KEBA develops and produces inventive, top quality automation solutions for the industrial, banking and service branches. Indeed, as a result of competence, experience and courage, KEBA is the technology and innovation leader in its respective market segments. In the industrial automation business area, KEBA focuses on the automation of machinery and robots, as well as the production of mobile operating devices and control systems.

Further information: Werner Hentscholek, Ing.. Marketing Communication, Industrial Automation KEBA AG Gewerbepark Urfahr, A-4041 Linz, Austria Phone: +43 732 7090 - 22610 hnt@keba.com