Product News: Chemicals & Chemical Processing
Automatic Dryer removes surface water from produce.
Press Release Summary: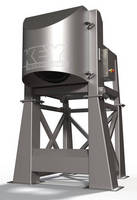 January 16, 2012 - Available in 1-, 2-, and 4-drum models, Auto Dryer removes water from fresh-cut produce gently and consistently to enhance product quality and extend shelf life while also enabling continuous line flow. System achieves smooth operation; controls, motor, and structure optimize dynamic operating condition. With automated and uninterrupted loading/unloading, dryer handles 1,100-3,000 lb of product per hour per drum. Settings can be stored in unit's PLC and recalled via color touchscreen.
Key Technology, Inc. - Walla Walla, WA
Original Press Release
Key Technology Introduces New Auto Dryer for Fresh-Cut Produce
Press release date: January 11, 2012
Key Technology introduces the new, redesigned Auto Dryer for removing surface water from fresh-cut produce while enabling continuous line flow. Available in one-, two-, and four-drum models, the new Auto Dryer is engineered to achieve the smoothest operation with new controls, a new motor, and a new structure that improves the dynamic operating condition of the dryer. This automatic dryer removes moisture from fresh-cut produce gently and consistently to enhance product quality and extend shelf life.
Compared to traditional batch dryers that require manual loading and unloading, the Auto Dryer achieves fully automated, uninterrupted loading and unloading. Compared to batch drying, the Auto Dryer doubles throughput in half the floor space while reducing labor, improving worker safety, and enhancing sanitation.
Key's new Auto Dryer handles from 1100 to 3000 lb (500 to 1360 kg) of product per hour per drum, depending on the product. Thus, the four-drum model handles up to 4,400 lb (2000 kg) per hour when drying lightweight products and up to 12,000 lb (5443 kg) per hour when handling heavier products.
The Auto Dryer effectively dries a wide variety of fresh-cut produce including baby leaf and cut leaf lettuce, cabbage, spinach, and cut vegetables such as carrots, onions, and peppers, as well as whole green beans, herbs, and more. Product settings, which control spin speed, cycle time, and fill level, can be stored in the Auto Dryer's PLC and easily recalled via the color touchscreen control panel. This fast and easy changeover routine assures each product is handled optimally so final moisture specifications are met.
The Auto Dryer reduces product damage and maximizes drying efficiency by loading a constant, even flow of product into dryer drums via a patented spiral layering method that eliminates the slug of product seen on other dryers. With its consistent centrifugal pressure, this unique spiral layering achieves more uniform drying while minimizing wear on mechanical parts. The result is reduced maintenance and longer equipment life than other dryer designs.
Key designed the Auto Dryer to improve sanitation and ease maintenance. The new hood system helps contain water while enabling easy access to the drum for cleaning. The stainless steel dryer is designed using the latest food safety standards to eliminate cracks and crevices that can harbor bacteria. The new, state-of-the-art control system monitors the condition of the drum and automatically adjusts the spin speed if an out-of-balance condition is detected, which reduces wear. Using a direct drive system, the Auto Dryer minimizes maintenance.
The Auto Dryer can be connected to the plant-wide network and programmed to control the entire production line, making decisions for the upstream wash system and/or downstream packaging to maximize the efficiency of the line and create true continuous line flow.
Key offers an optional package with its Auto Dryer that includes a dual-level storage belt, dewatering feed shaker, and discharge belt conveyor. The dual-level storage belt provides product accumulation that helps optimize the line. The dewatering feed shaker improves the efficiency of the dryer.
Addressing fresh-cut processors' need to relocate their production lines, typically twice each year, Key designed the Auto Dryer for easy transportation and flexible set-up. The new Auto Dryer can be moved with a forklift and the configuration of the system can be modified in the field to position the touchscreen control panel, the hood opening, and the drum rotation, based upon feed position to either the right or the left.
"Key Technology is focused on providing a wide range of superior processing and packaging solutions to help fresh-cut processors improve product quality and food safety while increasing operating efficiencies and cutting costs," noted Steve Johnson, Product Marketing Manager at Key Technology. "With the new Auto Dryer, we've taken our very successful automatic dryer and reengineered it for smoother operation to deliver the greatest value to our customers."
For more information on the Auto Dryer, visit
www.key.net
/products/freshline/automatic-dryers.
About Key Technology, Inc. Key Technology, an ISO-9001 certified company, is a leading designer and manufacturer of process automation systems, integrated electro-optical inspection and sorting systems, and processing systems. Key® systems help processors to improve quality, increase yield, and reduce cost. With worldwide sales representation, the company maintains demonstration and testing facilities at its headquarters and manufacturing divisions in Walla Walla, Washington, USA, and at Key Technology BV in Beusichem, the Netherlands. The company's common stock trades on The NASDAQ Global Market under the symbol: KTEC.
Reader Inquiries: Anita Funk Key Technology, Inc. 150 Avery Street Walla Walla, WA 99362 USA Tel: 509 529 2161 Fax: 509 527 1331 Email: afunk@key.net URL:
www.key.net