Product News: Electrical Equipment & Systems
Automatic Butt Splicer suits wire and cable applications.
Press Release Summary: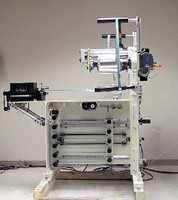 December 12, 2007 - Engineered for splicing variety of materials, including cable tapes used in coaxial cable production, cantilevered Model S-EBL-DSB-ACV always applies first tape to top side of web, without having to turret unwinding spindles. Splicer mechanism opens for splice preparation, and can be set up to provide overlap type splice. Unwind system is specifically designed to accommodate traverse wound spools or pancake wound rolls of tapes common to wire and cable manufacture.
CTC International, Inc. - West Caldwell, NJ
Original Press Release
Cantilevered Narrow Web Butt Splicer for Wire & Cable and other Converting Applications
Press release date: December 6, 2007
Caldwell, NJ, December 6, 2007: CTC International introduces its Model S-EBL-DSB-ACV Automatic Butt Splicer for Wire & Cable applications. Machine is engineered for splicing a variety of materials, including cable tapes used in co-axial cable production. The unwind system is specifically designed to accommodate traverse wound spools or pancake wound rolls of tapes common to wire and cable manufacture This unique splice mechanism always applies the first tape to the top side of the web, without having to turret the unwinding spindles. This New feature saves floor space and complexity versus traditional butt Splicers. The Splicer Mechanism can apply tape to both sides of the web for maximum strength, or to just only one side if desired. The mechanism opens for easy splice preparation, and it can also be set up to provide an overlap type splice. The driven unwind spindles allow for high speed splicing at low web tension, while maintaining accurate tension control throughout the splice cycle. The machine will be offered to accommodate various roll sizes, line speeds and other process requirements, including CE compliance and an option for splicing in register. For more information please contact Rich Herbert at CTC. CTC International 11 York Ave. West Caldwell NJ 07006 Phone: 973-228-2300
www.ctcint.com