Product News: Material Handling & Storage
Automated Storage/Retrieval System offers 300 kg load capacity.
Press Release Summary: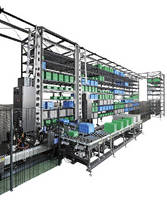 February 6, 2013 - With double-deep storage design, FX Quad Mini-load AS/RS provides flexible handling of 1–4 cases. System features high-speed Mini-Load Crane with traveling speed up to 300 m/min and hoisting speed up to 180 m/min. Load handling devices include rear-hook double-deep (free-size), single fork, twin fork with belt conveyor, and twin fork with belt conveyor (double-deep).
Original Press Release
Muratec's New FX Quad Mini-Load AS/RS
Press release date: November 14, 2012
Murata Machinery USA, Inc. today announced the North American launch of their New FX Quad Mini-load automated storage and retrieval system.
World-class high-speed Mini-Load Crane
• Travelling speed: 300m/min
• Hoisting speed: 180m/min
High-density storage and High-throughput operations
• Load capacities up to 300kg
• Multiple up to 4 cases utilizing Twin Fork & Double-deep capabilities
Flexible, Multiple case handling
• Flexible handling of 1, 2, and 4 cases
• Free rack location and Double-deep storage achieves Excellent storage efficiency
Multiple Load Handling Devices
• Rear-Hook Double-deep (Free-size)
• Single Fork
• Twin Fork with Belt Conveyor
• Twin Fork with Belt Conveyor (Double-deep)
About Murata Machinery
Murata Machinery (i.e. Muratec) has been a global market leader in the design, manufacture and implementation of Automated Material Handling Systems (AMHS) for over 45 years.  We have extensive experience in storage, transportation, sortation and warehouse control systems within distribution centers, manufacturing facilities and clean room environments.  Muratec has installed approximately 25,000 storage/retrieval cranes and 3,500 automated guided vehicles in over 11,000 systems within the following industries: agriculture, air cargo, automotive, beverage and bottle, chemicals, cold storage, food, electronics, pharmaceuticals, paper, printing and publishing, semiconductor, solar/photovoltaic, specialty retail and textile.
Contact us:  Tom Meyers, National Sales Manager
tom.meyers@muratec-usa.com
704-394-6900 ext. 474