Product News: Safety & Security Equipment, Welding Equipment & Supplies
Auto-Darkening Welding Helmet features 4-sensor design.
Press Release Summary: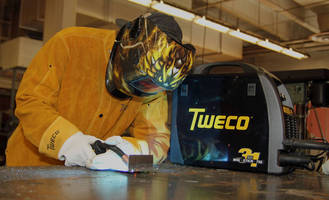 March 10, 2014 - Offering weld and grind modes, Tweco® weighs 16 oz, has 3.86 x 1.69 in. viewing area, and will darken when TIG welding even at 5 A. Solar power eliminates need to change batteries, and helmet switches from light to dark in 33 µsec and vice-versa within 3 selectable ranges: 0.25–0.35 sec, 0.35–0.50 sec, and 0.50–0.80 sec. Sensitivity and delay knobs on outside of helmet shell allow for adjustment while welding, while recessed lens design helps prevent faceplate scratches when set down.
Victor Technologies International, Inc
Original Press Release
New Tweco® Auto-Darkening Welding Helmet Features Four Sensors, Grind/Weld Modes, Low-Amp TIG Performance and an MSRP of $142
Press release date: February 27, 2014
ST. LOUIS — The new Tweco® auto-darkening welding helmet features four sensors for enhanced performance at an affordable price. It can be used in both weld mode and grind mode and will darken when TIG welding even at 5 amps. The helmet has a large viewing area of 3.86" x 1.69", weighs 16 oz., uses solar power to eliminate the need to change batteries and offers all these features for an MSRP of $142.

Backed by Tweco support, quality, reliability and a two-year warranty, the new helmet comes in three popular styles: Patriot Eagle, Skull & Fire and Yellow Dragon.

Performance and Value
When switching from light-to-dark, this Tweco helmet darkens in 33 microseconds, or 1/30,000th of a second, one of the fastest reaction times available (by way of comparison, a human eye blink takes 3/10th to 4/10th of a second). When switching from dark-to-light, users can select from three switching speeds: short (0.25s to 0.35s), medium (0.35s to 0.50s) and long (0.50s to 0.80). Operators in high amperage applications prefer a longer transition time, giving the red-hot weld puddle a chance to cool.

Designed to combine safety, strength, flexibility and comfort, the Tweco WeldSkill four-sensor helmet passes every one of the 49 tests required under the ANSI Z87.1-2010 standards. This includes the ability to retain its auto-darkening performance even after high impact by a steel ball.

Tweco placed the sensitivity and delay knobs on the outside of the helmet shell so that operators can make adjustments while welding. When setting the helmet down, a recessed lens design prevents the faceplate from touching the table, protecting it from scratches.

"The four-sensor Tweco helmet offers an unmatched combination of safety, performance and value," says Indy Datta, Tweco Brand Management. "It was built to withstand the rigors of daily fab shop use, but with an MSRP of $142, DIY welders can also enjoy professional-grade functions that make welding easier."

The Tweco line includes an extensive array of products from the basic manual welding tools and accessories to MIG guns, consumables, and a complete selection of products for precision robotic welding applications.

About Victor Technologies
Headquartered in St. Louis, Missouri, Victor Technologies provides superior solutions for cutting, gas control and specialty welding equipment under brand names that include Victor®, Victor®Thermal Dynamics®, Victor®Arcair®, Victor®TurboTorch®, Tweco®, Thermal Arc®, Stoody®, Firepower® and Cigweld®. For more information about Victor Technologies, its products and services, visit the company's web site at www.victortechnologies.com.

Contact:
Bill Wehrman, Communications Manager
Victor Technologies
Phone: 636-728-3057
Email: media@victortechnologies.com

Alternate Contact:
Chuck Schroeder (PR Representative)
Office: 262-240-9790; Mobile: 414-467-3287
Email: chucks@imipr.com