Product News: Machinery & Machining Tools
Auger Bits bore through nail embedded timber.
Press Release Summary: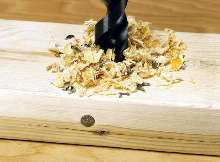 November 8, 2004 - Featuring dual-helix cutter heads, Nailbiter Auger Bits bore holes in wood construction to speed installation of NM wire, armored cable, or rigid conduit. Made of machine steel and vacuum chamber hardened to Rockwell 55-59, bits minimize warping and allow repeated re-sharpening. Black oxide finish provides rust resistance. For smooth pulling action, heavy-duty lead screw and cutting edges are precision-ground with 60° cutting angle on leading edge.
Ideal Industries, Inc. - Sycamore, IL
Original Press Release
Nailbiter Auger Bits Cleanly Bore Through Nail Embedded Timber, Produce 44% More Cuts Than Competitive Brands
Press release date: October 27, 2004
SYCAMORE, IL, OCTOBER 27, 2004 IDEAL INDUSTRIES, INC., a leading innovator in hand tools for the professional electrician, launched today its new line of Nailbiter Auger Bits with long-lasting Dual-Helix cutter heads for smoother, faster cutting through thick, nail-embedded timber. The augers were independently tested to cut 44 percent more holes than similar bits currently available.
"We put our Nailbiter augers head-to-head against those from Lenox, Milwaukee, Irwin, Greenlee and other manufacturers in a test of drilling through 2x4's with nails driven through them," noted Jeff Tisdell, Product Manager, IDEAL INDUSTRIES, INC. "Nailbiter augers lasted up to 44 percent longer than the next leading brand, delivering more holes for the dollar."
Specifically designed to bore holes in wood construction to speed the installation of NM wire, armored cable or rigid conduit, new Nailbiter augers feature vacuum chamber hardened machine steel to assure best-of-breed durability, minimum warping and long-lasting performance. The bits are hardened to Rockwell standard 55-59, while competitor's bits run as low as Rockwell 40 hardness. Besides assuring a longer service life, this exceptional hardness makes repeated re-sharpening between jobs possible to guarantee the greatest value. A full black oxide finish provides excellent rust resistance while reducing friction.
Using two cutter heads instead of one, the Nailbiter provides twice the cutting surface per rotation, so significantly less effort is required to cut through construction timber, no matter how knotty or nail ridden. For faster, more reliable starts and smooth pulling action, the heavy-duty lead screw and cutting edges are precision-ground with a unique 60° cutting angle on the leading edge providing clean shearing of wood and nails. Moreover, the oversized cutting head creates a hole slightly larger than the auger body, enhancing control and easing bit removal.
IDEAL Nailbiter auger bits are available in a wide range of sizes and designs, including short-augers, auger extensions, long-augers and Mini-Augers.
For more information, contact IDEAL INDUSTRIES, INC., Becker Place, Sycamore, Illinois 60178. Or phone 1-800-435-0705, Fax: 1-800-533-4483. On the web,
www.idealindustries.com
.
ABOUT IDEAL INDUSTRIES, INC. IDEAL INDUSTRIES, INC. has been serving the electrical industry since 1916. IDEAL is one of the world's leading manufacturers of professional quality tools and supplies serving installation professionals in the construction, maintenance, data communications and original equipment manufacturing industries.