Product News: Computer Hardware & Peripherals
ATX Motherboard supports 3rd generation Intel Core processors.
Press Release Summary: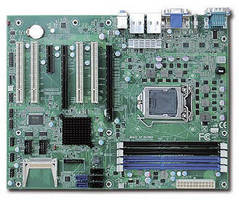 October 31, 2012 - Based on Intel's mobile QM77 PCH supporting third generation Intel Core i7/i5/i3 processor with power management technology, RUBY-D714VG2AR features four 240-pin DIMM sockets to support dual-channel DDR3 1,600/1,333 SDRAM up to 32 GB, and dual display support via VGA/DVI-D/HDMI. Board provides dual Intel GbE LANs, 4 USB 3.0 connections at rear I/O, and 6 USB 2.0 connections via onboard headers, plus 6 serial ports and 5 SATA interfaces with support for RAID 0/1/5/10 and CF-SATA II.
American Portwell Technology - Fremont, CA
Original Press Release
Portwell Expands Portfolio of Industrial ATX Motherboard with 3rd Generation Intel Core Processors
Press release date: October 19, 2012
FREMONT, CALIF. – American Portwell Technology, Inc., (http://www.portwell.com/) a wholly owned subsidiary of Portwell, Inc., a world-leading innovator in the Industrial PC (IPC) market and a Premier member of the Intel Intelligent Systems Alliance, has launched its new RUBY-D714VG2AR. Designed and developed to provide significant computing performance and power management improvements, American Portwell's RUBY-D714VG2AR represents a new milestone for embedded solutions, high-speed data transactions and graphics capability.

The new RUBY-D714VG2AR industrial ATX form factor motherboard is based on Intel's mobile QM77 PCH supporting the latest third generation Intel Core i7/i5/i3 (formerly codenamed Ivy Bridge) processor with power management technology, DDR3 support and dual Gigabit Ethernet. Other features include: four 240-pin DIMM sockets to support dual-channel DDR3 1600/1333 SDRAM up to 32GB; dual display support via VGA/DVI-D/HDMI; one PCIe x16 (PCIe x16 signal), one PCIe x16 (PCIe x4 signal), one PCIe x4 (PCIe x1 signal), four PCI expansion slots and one Mini PCIe socket; dual Intel GbE LANs (one of which can support iAMT 8.0); four USB 3.0 connections at rear I/O and 6 USB 2.0 connections via onboard headers; five SATA interfaces (2 x SATA 6Gb/s, 3 x SATA 3Gb/s) with support for RAID 0, 1, 5, 10 and CF-SATA II; plus six serial ports including 4 x RS232 and 2 x RS232/422/485.

American Portwell's RUBY-D714VG2AR Intel Core i7/i5/i3 processor-based industrial ATX motherboard is the ideal solution for Green PC and applications in such areas as Point-of-Sale (POS), lottery, medical, gaming, digital signage, automation, surveillance security monitoring and kiosks.

Fast and powerful energy-saver
"The new RUBY-D714VG2AR offers many significant improvements in computing performance and lower power consumption over the previous Core 2 Quad and Core 2 Duo processors-based solutions," says Robert Feng, American Portwell Technology's product marketing manager. "The key difference," Feng adds, "is that our RUBY-D714VG2AR industrial ATX motherboard, even when equipped with the Core i7 CPU, has a thermal design power (TDP) at 77W, which is far lower than the previous 95W via the 2nd generation Core processors. PCIe x16 Gen 3 supports much greater graphics processing speed for users who need high-performance add-on graphics cards and to fulfill the high-end requirements from current imaging applications. The built-in Intel HD Graphics 4000/2500 architecture supplies the enhanced graphics capabilities demanded by such industries as medical and digital signage at no extra cost."

"In fact," Feng confirms, "at 8Gb/s, PCIe x16 Gen 3 provides triple the performance for users who need expandable graphics solutions. In addition, USB 3.0 provides ten times the speed of USB 2.0, making RUBY-D714VG2AR invaluable for applications that need to run external data transactions without network or field service to recover OS and data images. What's more," he adds, "the Intel QM77 PCH itself is exceptionally cost-effect because actually provides native PCI signal for current solutions that still need multiple PCI slots."

A greener PC solution and long product life cycle Frank Shen, American Portwell Technology's VP of product marketing points out that by using the higher performance 3rd generation Intel Core processors with its reduced power requirement of only 77W, the new RUBY-D714VG2AR provides a better thermal and power-saving solution for current green PCs that need to be environmentally friendly and energy efficient. "Not only that," Shen continues, "but our customers also benefit from the peace of mind they get from the long life cycle support inherent with every Portwell product."

Product details: http://www.portwell.com/products/detail.asp?CUSTCHAR1=RUBY-D714VG2AR

About American Portwell Technology
American Portwell Technology, Inc., is a world-leading innovator in the embedded computing market and a Premier member of the Intel® Intelligent Systems Alliance. American Portwell Technology designs, manufactures and markets a complete range of PICMG computer boards, embedded computer boards and systems, rackmount systems and network appliances for both OEMs and ODMs. American Portwell is an ISO 9001:2008, ISO 13485:2003 and ISO 14001:2004 certified company. The company is located in Fremont, California. For more information about American Portwell's extensive turnkey solutions and private-label branding service, call 1-877-APT-8899, email info@portwell.com or visit us at http://www.portwell.com.

All products and company names referred to herein may be trademarks or registered trademarks of their respective companies or mark holders.

Product Contact:
Robert Feng
Product Marketing Manager
American Portwell Technology, Inc.
510-403-3371
robertf@portwell.com

Media Contact:
Susan Wei
Marketing Executive
American Portwell Technology, Inc.
510-403-3354
susanw@portwell.com