ATM Machine is based on Windows® Intel® XScale(TM) platform.
Press Release Summary: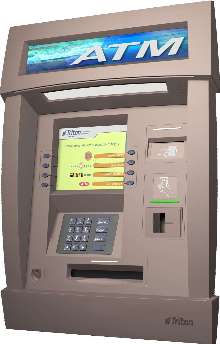 November 7, 2003 - Through-the-wall Model FT5000 incorporates TCP/IP-based network communication and revenue generation features like couponing and advertising. It complies with ADA regulations including text-to-speech audio capabilities, and has encrypting PIN pad for compliance with MasterCard's® Triple DES mandate. Fully weatherized unit has 10.4 in. color LCD screen, 80 mm thermal printer presenter, USB device port, 4 USB master ports, and 2 PCMCIA card slots.
Triton Systems of Delaware, Inc. - Long Beach, MS
Original Press Release
Through-The-Wall Triton® FT5000 ATM
Press release date: October 21, 2003
Press Release Date: October 21, 2003 Body Text: Long Beach, MS, October 21, 2003 - Triton's newest product and first through-the-wall ATM, the FT5000, is now available for delivery. Based on a Windows® Intel® XScale(TM) PC platform, Triton's FT5000 advanced functionality ATM provides financial institutions and retailers with a high performance, affordable, through-the-wall ATM solution for drive-up or walk-up installations.
According to Triton's president, Brian Kett, financial institutions and major retail beta participants note that Triton's FT5000 has the presence and advanced functionality of existing high-end ATMs with the quality and low cost of ownership that are the hallmark of Triton ATMs. "With the support of our national and regional service network, the FT5000 provides our financial customers with a flexible cost efficient alternative to purchasing expensive Triple DES upgrades for their existing ATMs," Mr. Kett said.
"We've not had an ATM on-site before and we did a lot of research," said Sandy Lumbley, president of Kerr County Federal Credit Union. "The FT5000 was very cost effective and we're using it to advertise loan rates, CD rates, and a new branch. Our joint venture with ATM Ventures and the price and functionality of the Triton ATMs made it possible for us to have ATMs-we only had to fill out one form to start!"
Triton's FT5000 through-the-wall ATM incorporates cost-saving features like TCP/IP-based network communication and revenue generating features like couponing, advertising capabilities, and Triton Waves(TM) value-added services. Triton's first suite of value-added services includes CashWorks(TM) check cashing, PaySpot(TM) prepaid wireless, and Western Union Money Transfers®.
The FT5000 complies with all existing and proposed ADA regulations including text-to-speech audio capabilities. Standard features include an encrypting PIN pad (EPP) for full compliance with MasterCard's® Triple DES mandate. The FT5000 features an eye-catching 10.4 inch color LCD screen, an 80mm thermal printer presenter, a USB device port, four USB master ports for slave devices, and two PCMCIA card slots. The FT5000 is fully weatherized for through-the-wall installation and is available with an optional sunlight-readable display.
About Triton As the leading provider of ATMs for off-premise locations, Triton is committed to redefining and leading the market for cash delivery systems. Triton is the largest provider of off-premise ATMs and ATM management software in North America and has more than 83,000 installations in over 17 countries worldwide. Triton is headquartered in Long Beach, MS and is an operating company of Dover Industries, Inc., a subsidiary of Dover Corporation. For more information about Triton, please visit
www.tritonatm.com
or call 1-228-868-1317 (U.S. toll free 1-800-367-7191).