Product News: Test & Measuring Instruments
Area-Velocity Flowmeter offers choice of sensor configurations.
Press Release Summary: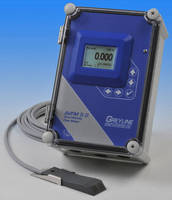 January 12, 2011 - Designed for municipal stormwater, combined effluent, raw sewage, and irrigation water, AVFM 5.0 can monitor flow through open channels, partially full sewer pipes, and surcharged pipes without flume or weir. It can be configured with standard submerged velocity/level sensor, or with submerged velocity and separate non-contacting ultrasonic level sensor. Additional features include backlit flow rate display, totalizer, three 4-20 mA outputs, and 2 control relays.
Greyline Instruments, Inc. - Massena, NY
Original Press Release
New Area-Velocity Flow Meter the AVFM 5.0
Press release date: January 11, 2011
Monitor flow through open channels, partially full sewer pipes and surcharged pipes without a flume or weir. This new flowmeter is designed for municipal stormwater, combined effluent, raw sewage and irrigation water. The new Greyline AVFM 5.0 uses a submerged ultrasonic sensor to continuously measure both Velocity and Level in the channel. The sensor is resistant to fouling and corrosion. The AVFM 5.0 can be configured with the standard submerged Velocity/Level sensor, or with submerged velocity and a separate non-contacting ultrasonic level sensor. It includes a backlit flow rate display, totalizer, three 4-20mA outputs and two control relays. Intrinsically safe sensors and built-in data logger are optional. Greyline Instruments Inc., 105 Water Street, Massena, NY 13662 Tel: 888-473-9546,
www.greyline.com
Email: info@greyline.com