AODD Maintenance Management Software is offered via mobile app.
Press Release Summary: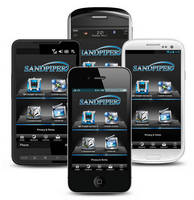 January 8, 2013 - SANDPIPER mobile app lets users locate information related to specific Air Operated Double-Diaphragm (AODD) pumps. After scanning QR code on pump tag, checking one box, and hitting send, users gain immediate access to spare parts and may request quotations for specific pumps. Additional features include ability to review Chemical Compatibility using interactive guide, browse marketing materials, and watch service/repair training videos.
Original Press Release
SANDPIPER Unveils New, Unique Mobile App
Press release date: January 2, 2013
MANSFIELD, Ohio – SANDPIPER, a leading global Air Operated Double-Diaphragm (AODD) pump brand, recently launched a unique mobile application specifically designed to support AODD pumps.
The new SANDPIPER mobile app empowers users to quickly locate information related to a specific pump using My Pump Details. Simply scan the QR code on the pump tag, check a box and hit send to immediately get access to spare parts and request quotations for a specific pump. The user can also view the spare parts installation video and service manual for a specific pump without searching through lists of information. Everything that the pump user needs to service a particular pump is right at their fingertips. This ease-of-use functionality, which is applicable across all industrial products, reduces the inefficiency of searching for reference data during routine and emergency maintenance situations.
Additional features of the new SANDPIPER app include the ability to instantly review Chemical Compatibility using the interactive guide, conveniently browse the latest marketing materials, watch helpful service and repair training videos and more. "Worldwide, the SANDPIPER pump brand is known for offering the most innovative and broadest range of products, providing highly engineered and application driven pumping solutions. Today, we are pleased to deliver our channel partners with an innovative solution to support AODD pumps," says John Carter, President. "For our global audience, the ability to use the mobile app any time of the day or night is a definite advantage to doing business with SANDPIPER."
For more information on the new SANDPIPER mobile application, including a demo video, download instructions and frequently asked questions, visit http://www.sandpiperpump.com/mobile_app.asp.
About Warren Rupp, Inc.
Warren Rupp, Inc. is a leading manufacturer of air operated double diaphragm (AODD) pumps. Engineered solutions for various industrial markets are offered through Blagdon, Pumper Parts, Versa-Matic and SANDPIPER. Products are sold worldwide through a network of independent, factory-authorized distributors.
For more information, contact Warren Rupp, Inc., 800 N. Main Street, Mansfield, Ohio 44901. Phone: 419.524.8388. Or, visit
www.sandpiperpumps.com