Product News: Chemical Processing & Waste Management
Anti-Static Thermoplastic Elastomers are offered in 4 grades.
Press Release Summary: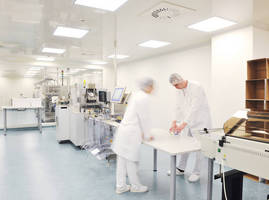 November 13, 2012 - Maxelast® P Series TPEs provide permanent anti-static/ESD effect on sports equipment, consumer goods, and medical and electronic products, with surface resistivity down to 1,010 Ω/sq. Four grades with Shore A Hardnesses of 65, 75, 80, and 90 are available, all of which are colorable for product identification. Thermoplastic elastomers can be used for overmolding onto polypropylene and for standalone applications.
Alliance Polymers & Services - Romulus, MI
Original Press Release
APS Now Offers an Anti-Static TPEs for Consumer Goods,and Medical and Electronic Products
Press release date: October 25, 2012
ROMULUS, MI – Product designers and molders as well as marketers of consumer goods, sports equipment and electronic products who are seeking to add permanent anti-static/ESD effect properties on and in their products can now do so by using new, proprietary anti-static Maxelast® P Series TPEs (thermoplastic elastomers) from Alliance Polymers and Services, LLC.   Four new grades are currently available.   The new TPEs can also be used for overmolding onto PP (polypropylene) and for standalone applications. 

The new formulations, offered as the latest additions to the P Series of Maxelast TPEs, provide a permanent anti-static/ESD effect with a surface resistivity down to 1010 sq (or ohm/sq).  They are available in four Shore A Hardnesses – 65, 75, 80 and 90 – making them suitable for a wide variety of applications that need to meet different hardness requirements.  APS officials note that this ESD protection has been achieved without using carbon black.  All grades are fully colorable for easy product identification.

Features and benefits of the new Maxelast TPEs include the ability to:
• Improve end product reliability with embedded anti-static properties
• Keep costs consistent with traditional coated or blooming systems
• Save time by eliminating additional product finishing steps
• Avoid fragile surfactant coatings or blooming anti-stats

Alliance Polymers and Services, LLC (APS) is a leading U.S. sales and service firm dedicated exclusively to providing products and technical support for soft elastomers including the  Maxelast® line of thermoplastic elastomers (TPEs) and BASF Elastollan® brand of thermoplastic polyurethanes (TPUs). APS also offers compounding and laboratory services for TPEs.

For additional information on the new anti-static grades of Maxelast TPEs, contact:  Alliance Polymers and Services, LLC (APS), 30735 Cypress Road, Suite 400, Attention: Roger Huarng, Romulus, MI 48174. Tel: 734-710-6700.  Fax: 734-710-6715.  Email: sales@apstpe.com.  Web: www.apstpe.com .

APS Compounding
30735 Cypress Road, Suite 400 B
Romulus, Michigan 48174

Additional grades recently introduced to the Maxelast ® P Series of TPEs offer anti-static protection to products (shoe soles, medical equipment, and instruments,) either when overmolded or used in a standalone application.

APS1688.102512