Product News: Test & Measuring Instruments
Analog-to-Digital Converters (12-bit) offer 5 analog input ranges.
Press Release Summary: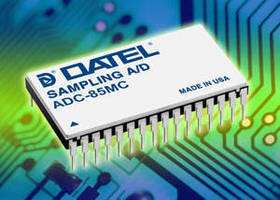 February 11, 2014 - Offering 8 µsec conversion time, ADC-85 series comes in hermetically sealed, 32-pin, side-brazed DDIP or gull-wing SMT ceramic package. Each unit features ½ LSB linearity and is 100% tested for performance across one of 3 temperature ranges: 0 to +70°C, -40 to +100°C, and -55 to +125°C. Along with parallel and serial digital outputs, units feature short-cycling support, internal buffer amplifier, and output coding that is complementary binary/offset binary or complementary 2's complement.
Original Press Release
ADC-85 Series A/D Converters are High-Performance 12-bit Devices with Five Analog Input Ranges
Press release date: February 3, 2014
The DATEL Business Unit of Murata Power Solutions announces the introduction of the ADC-85 series of Analog-to-Digital converters, which are 12-bit, 8µs conversion time ADCs housed in a hermetically sealed 32-pin side-brazed DDIP or gull-wing SMT ceramic package.
Each unit features guaranteed ½ LSB of linearity and is 100 percent tested for performance across one of three specified temperature ranges: 0 to +70°C; -40 to +100°C; and -55 to +125°C. The ADC-85 has five analog input ranges and offers parallel and serial digital outputs. It can be short-cycled to give faster conversions in lower-resolution applications.
Other key benefits include an internal buffer amplifier provided for applications in which high input impedance is required. Output coding is complementary binary, complementary offset binary, or complementary two's complement. With excellent Differential and Integral Non-linearity specifications, the ADC-85 has been an industry standard family of data converters and is a good choice where precision and accuracy are required.
The device is available in commercial as well as military/high-reliability temperature versions, and is pin-for-pin compatible with the ADC84, ADC85, MNADC87, HSADC85, and MNADC85 series. Both 883 and DSCC/DLA-compliant models are included in this family and are available under drawing number 5962-8850802XC for gold pins and 5962-8850802XA for solder-dipped pins. RoHS and non-RoHS versions are available.
The ADC-85 series is manufactured in DATEL's USA facility which is certified to MIL-PRF-38534 standards.
Delivery is from stock to 8 weeks, with pricing for the ADC-85MC under $225 each for 100 pieces.
Contact details:
Datel
11 Cabot Boulevard
Mansfield, MA 02048-1151, USA
Tel: +1-508-339-3000
e-mail:
tonykhazen@datel.com
About Datel (
www.datel.com
)
Dedicated to the military and aerospace market solutions, DATEL is a business unit of Murata Power Solutions. For several decades DATEL has worked closely with defense and Hi-Rel companies to provide fully qualified and MIL Certified 883 components that meet customers' specific and stringent application requirements.
DATEL data acquisition products are designed and manufactured in an 180,000 square-foot, MIL-PRF-38534 hybrid certified fabrication facility located in Mansfield, Massachusetts, USA. The data acquisition product offering has grown to become one of the industry's broadest, designed to meet the ever-changing requirements of military, HI-REL, medical, scientific and industrial applications. DATEL are ISO-9001 certified, and ITAR registered.