Product News: Sensors, Monitors & Transducers
Ambient Light/Proximity Sensor targets mobile and smart phones.
Press Release Summary: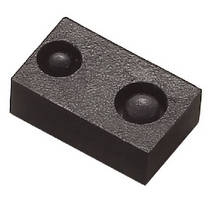 November 26, 2012 - Combining ambient light and proximity sensor with integrated IR transmitter in DFN package, Model APM-16D25-11-DF8 operates from 2.5–3.6 V while consuming 90 µA. Proximity sensor, providing refresh time from 10–270 ms, comes with background noise cancellation algorithm to optimize performance under influence of ambient IR light produced by lamps or sunlight. To closely mimic human eye spectral response, ambient light sensor incorporates special optical filtering.
Everlight Electronics Co. Ltd.
Original Press Release
Everlight Electronics Presents Ambient Light/Proximity Sensor Package for Mobile and Smart Phones
Press release date: November 13, 2012
electronica, Munich/Germany -  Everlight Electronics Co., Ltd. [TSE:2393, a leading player in the global LED and optoelectronics industry, announces its latest innovation APM-16D25-11-DF8 which combines an ambient light and proximity sensor with an integrated IR transmitter in a compact DFN package. To optimize the sensitivity, the package includes a lens which was designed based on a highly precise optical simulation with 1 million light rays to produce an accurate model.

Optical proximity sensors with integrated IR transmitters often have cross-talk issues caused by IR stray light. In order to overcome this challenging problem, Everlight implemented a unique package design to keep this effect to a minimum. Moreover, the proximity sensor comes with a background noise cancellation algorithm to improve the performance under the influence of ambient IR light produced by lamps or sunlight.

Designed to reduce the power consumption of handheld devices like smart phones, mobile phones and PDAs, the APM-16D25-11-DF8's proximity sensor has a fast sensing time with a short ON time for the IR LED to keep the power consumption low without sacrificing on sensitivity.

The APM-16D25-11-DF8's ambient light sensor incorporates a special optical filtering for closest mimic with human eye spectral response. Everlight offers eight different available settings - four different integration times and two gain settings - to achieve the best matching resolution and illumination ranges under different application conditions.

Key Features include:
Operating voltage 2.5 to 3.6V
I2C interface with 1.8V compatibility
Low current consumption of 90uA (typ. @3.3V, IR off)
8 bit ADC for proximity sensor
Proximity sensor refresh time: 10ms to 270ms
16 bit ADC for ambient light sensor
ALS integration time: 100ms, 200ms, 400ms and 800ms
ALS resolution: 0.0275lux/count Interrupt function for ALS and PS

Everlight is fostering closer working relationships between our R&D, Sales and Marketing teams to meet and exceed our customer's expectations in both product offering and technology.

Sample Available: Yes. (Upon request)
Mass Production: January 2013

More information or data sheet for these products upon request: Please contact your local Everlight sales office. Local Sales information: www.everlight.com

About Everlight Electronics Co. Ltd.
Everlight Electronics Co., Ltd. was founded in 1983 in Taipei, Taiwan. Playing a critical role in the formation of the global LED industry, the company has rapidly ascended to become a leading supplier due to its dedication to certification, R&D, production, quality, marketing and global customer service. Everlight provides a diverse product portfolio consisting of High Power LEDs, Lamps, SMD LEDs, LED Lighting Modules, Digital Displays, Optocouplers and Infrared Components for various applications. Today, Everlight is a global company with over 6,400 employees based in China, Hong Kong, Japan, Korea, Singapore, Malaysia, Germany, Sweden, U.S., and Canada.
Please visit us at www.everlight.com

Reader enquiries:
Beate Jungwirth
Manager Marketing Communications and PR
E-mail: pr@everlight.com