Product News: Material Handling & Storage
Air Scissor Lift optimizes pallet ergonomics.
Press Release Summary: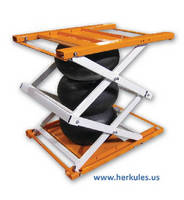 June 27, 2012 - Featuring 3,000 lb capacity, A-Series A1300 raises pallets or containers to heights ranging from 9-42 in., so workers do not need to strain and bend while unloading or loading material. Lift is powered by Air Bag(TM) technology, which provides direct 1:1 lift ratio, eliminating stress on scissors, minimizing wear and maintenance. With lift, users can purchase needed components for initial application and then add optional components if application changes.
Original Press Release
EnKon's A-Series A1300 Air Scissor Lift for Pallet Ergonomics
Press release date: June 12, 2012
Walled Lake, Michigan. - EnKon Systems, Herkules Equipment Corporation's new brand name for scissor lifts, manufactures the A-Series A1300 Air Lift which is light weight and extremely unique. As part of EnKon's A-Series Lift product line, the A1300 provides tremendous flexibility by allowing the user to purchase needed components for the initial application and can then purchase other optional components if the application changes. A platform, rotate, tilt, casters, and other optional components are available to add to the lift for improving ergonomics at any time, offering solutions for hundreds of different applications. The lift's low cost and low cost options reduce equipment expenses for the long term.
The A-Series A1300 Lift is ideal for improving ergonomics and productivity by raising pallets or containers to the perfect height, from 9" to 42", so workers do not need to strain and bend while unloading or loading material. The lift is virtually maintenance-free, with no messy fluids or costly cylinders to replace. Capacity is 3000 lbs.
The A-Series lifts' power source, Herkules' Air Bag(TM) technology, provides a patented direct one-to-one lift ratio, eliminating stress on the scissors, minimizing wear and maintenance. The lifting motion is smooth and stable. The heavy-duty air bags are built for rugged daily use giving facilities a lifetime of trouble-free operation.
For more product information, contact Herkules at 800-444-4351, or email info@herkules.us. Visit our website at
www.herkules.us
EnKon Systems is the new brand name for Herkules Equipment Corporation's electric, hydraulic and air powered scissor lift table systems. Herkules has been manufacturing lifting equipment close to 30 years, building a solid reputation specifically for designing & manufacturing air operated lift systems for a variety of applications. Standard and custom lift systems include; Electric Belt Drive Lifts, Electric Ball Screw Lifts, Air Lifts, Hydraulic Lifts, Lift Tables, Lift & Rotates, Lift & Tilts, Operator Lifts, Power Rotate Systems, Cart Positioners, Pallet Positioners, Post Lifts, and Lifts for Integration.