Product News: Material Handling & Storage
Air Operated Monorail Hoists come in 2- and 4-trolley models.
Press Release Summary: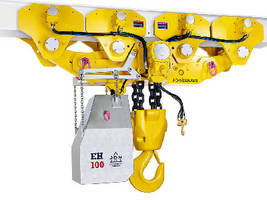 April 7, 2014 - Suitable for heavy duty lifting in harsh environments, Models EH 75 and EH 100 are 4-trolley traverse drive hoists with capacities of 75 and 100 tonnes, respectively. Twin trolley drive versions, Models EH 75C and EH 100C, are suited for limited space operations. All utilize air motor providing 9 kW power output at 6 bar air pressure supply. Motor incorporates proven technology for lift/drive and integrated braking operations, based upon stepped brake piston and self-lubricating rotor unit.
Original Press Release
New Heavy Duty Air Operated Hoists Added to J D Neuhaus Range
Press release date: March 27, 2014
Following an ongoing programme of development and innovation, the hoist and crane specialist J D Neuhaus have introduced further new models into their EH range of air operated monorail hoists. These powerful, robust units provide reliable solutions for heavy duty lifting in the harshest environments including onshore and offshore, the cement industry, steelworks and shipbuilding etc.
Two versions, for each of the 75 and 100 tonne lifting capacity products in the EH range are now available in both double trolley as well as the previously available 4 trolley traverse drive versions. All these models utilise a new air motor unit providing a 9kW power output at a 6 bar air pressure supply. This motor incorporates well proven technology for the lift/drive and integrated braking operations, based upon a stepped brake piston and self-lubricating rotor unit.
These redesigned 4 trolley drive version hoists are designated as EH 75 and EH 100 offering 75 or 100 tonnes lift capacities respectively. The new twin trolley drive versions, which offer more compact units for operation where limited space is available, are designated as EH 75C and EH 100C. The latest JDN design features and advantages are incorporated throughout the range, which include reductions in overall size as well as up to 50% energy savings from reduced air consumption. Significant weight reductions for the 4 trolley hoist units have also been achieved, being 250kg for the EH 75 and 600kg for the EH 100. The twin trolley compact EH 75C and EH 100C models each offer a further weight reduction of 350kg over their 4 trolley counterpart.
Faster load lift/lower times (up to 50%) are also now available, with a general decrease in the overall dimensions. A pro-active gearbox cooling system has also been incorporated utilising the expanding exhaust air from the drive motor, while noise levels during operation have also been reduced. Other new developments include pin valves utilised as hoist limiters for top and lower hook position, with parallel chain sprocket arrangements also now incorporated.
These new products supplement an existing EH range of monorail hoists with lift capacities of 10, 16, 20, 25, 30, 37, 40, 50 and 60 tonnes, with all products designed and engineered for extremes of performance, with operation in even the harshest of environments.
Further information is available on request to:
J D Neuhaus GmbH & Co. KG
58449
Witten-Heven
Germany
Telephone: +49 2302 208-219
Fax: +49 2302 208-286
info@jdngroup.com
www.jdngroup.com
Join the JDN Community Join the JDN Community
facebook.com/jdneuhaus  facebook.com/jdneuhaus