Product News: Cleaning Products & Equipment
Aftermarket Top Engine Cleaner removes harmful deposits.
Press Release Summary: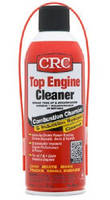 October 22, 2012 - Intended for professional automotive technicians and do-it-yourselfers, CRC Top Engine Cleaner breaks down carbon, varnish, and other harmful deposits in combustion chamber and induction system, solving rough idle or power loss problems. Using attached extension tube, cleaner is sprayed into throttle body while engine is idling at 2,000 rpm and allowed to heat-soak for 15-20 min with engine turned off. Product is supplied in 16 oz can and is suited for all 2- and 4-cycle engines.
Original Press Release
CRC Industries Launches New Aftermarket Top Engine Cleaner
Press release date: October 16, 2012
New concentrated combustion chamber and induction system cleaner from CRC removes harmful engine deposits to relieve and prevent performance problems

WARMINSTER, Pa.,  -- CRC Industries, Inc., a chemical specialties manufacturer for the automotive, marine, heavy trucking, electrical, industrial and hardware markets, has introduced CRC TOP ENGINE CLEANER, an aftermarket top end cleaner available for professional automotive technicians and do-it-yourselfers.

"Today's vehicles are designed to recirculate exhaust gas which reduces emissions but also causes harmful carbon deposits to form," says Adam Selisker, CRC vice president of Technology.  "Those carbon deposits collect on intake manifolds and intake valves, and on built-up gum and varnish residue in the engine. If left untreated, this can lead to performance problems such as engine pinging or knocking, increased fuel consumption, rough idling and power loss."

"Several OE manufacturers carry a top end cleaner, but CRC saw the need for this type of product in the aftermarket," explains Selisker. "Now more than ever, with today's higher gas prices and the dirty fuels we're running through our engines, it's important to properly maintain your vehicle and clean out the engine in between regular service intervals to maximize efficiency and power. You don't want to wait until there's a problem or until vehicle performance and fuel economy are sacrificed."

Using the attached extension tube, CRC Top Engine Cleaner is sprayed directly into the throttle body while the engine is idling at around 2,000 RPMs. Once the entire can has been dispensed, the engine should be turned off and the chemical allowed to heat-soak for 15-20 minutes. When the engine is restarted, the vehicle will dispel white smoke through the exhaust. The vehicle should be driven until that white smoke disappears.

Selisker says, "For the best results, we recommend that you change the oil and oil filter after running a top engine cleaner through your engine."

CRC TOP ENGINE CLEANER is available through automotive wholesale distributors and retailers.

More information on CRC TOP ENGINE CLEANER can be found on the company's website at www.crcindustries.com

MSRP:  $9.99   12 Fl. Oz.

CRC trademarked brands include: CRC®, K&W®, Sta-Lube®, and Marykate®.

CRC is ISO 9001:2008 certified and adheres to the strictest guidelines for quality in all facets of research, development and product.

CONTACT: Dori Ahart, Marketing Manager, CRC Industries, Inc., +1-215-674-4300, www.crcindustries.com

Web Site: www.crcindustries.com