Product News: Materials & Material Processing
Adhesive Plastic Strips display snack and candy at POP.
Press Release Summary: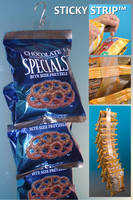 July 20, 2012 - Sticky Strips(TM), available in 6- and 12-position versions, are 15 mil thick, made of nearly transparent PVC, and feature stripes of adhesive along length. Once release paper is removed from adhesive side, snacks and candies packaged in bags without mounting holes can be pressed against strip for mounting and display. Adhesive will work even in temperatures encountered in warehouses, and bags can be removed and reattached at will by consumers.
Original Press Release
"STICKY-STRIPS(TM)" - Finally, Clip Strips® for the Snack & Candy Industry
Press release date: July 18, 2012
Many of our favorite snacks and candies come packaged in bags without mounting holes. Displaying these products on conventional merchandising strips is difficult and costly. Options include metal merchandising strips with pinch clips (costly) or the application of a hang tab to each bag (additional labor and material cost), but to not use clip strips® means losing impulse sales!
Clip Strip Corp is pleased to announce a brand new addition to their long line of innovative display products - Sticky Strips(TM)! The crystal-clear, 15 mil thick PVC strips come with stripes of adhesive along their length and employ simple pressure to attach the bags. Just press them onto the strip!
Sold in cartons of 1,000, the adhesive side of each strip is protected by a special release paper. Pull the paper off and begin loading the strip. The adhesive is quite strong and will work well even in the chillier temperatures often encountered in warehouse where the pre-loading often is done. At the store, a customer can remove the bag and if they change their mind, re-attach it just by pressing it back onto the strip.
Sticky Strips(TM) are available in 6 and 12-position versions (Item# Nos. SS-6 and SS-12 respectively) and will securely hold your product until the sale is made. Made of nearly transparent PVC, they will never compete with your chips, pretzels, nuts or candies! Your merchandise will always be the "star of the show."
For further information and free samples, contact Darnelle Holliday or Arc Shelichach at Clip Strip Corp., 343 South River Street, Hackensack, NJ 07601. Phone: 800-4CLIPSTRIP (800-425-4778). Fax: 201-342-1438. E-Mail: info@clipstrip.com Url:
www.clipstrip.com