Product News: Communication Systems & Equipment
Adapter Kits use electrical wiring for network connectivity.
Press Release Summary: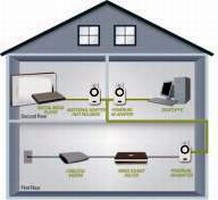 November 10, 2006 - Consisting of 2 PowerLine adapters, Ethernet cabling, and installation disk, 200 Mbps PowerLine Network Kit DHP-301 utilizes ac powered wall sockets for connecting network-enabled devices. One adapter plugs into router while the other connects to Ethernet-ready device, and such as personal computer, HDTV, or DVR. Product is suited for bandwidth-demanding applications such as high-definition media streaming, music sharing, and online multi-player gaming.
Original Press Release
D-Link Is Now Shipping 200Mbps PowerLine Network Kit That Uses Electrical Wiring for Delivering a Home Network
Press release date: October 24, 2006
Easy-to-Use Adapter Kit Enables Fast Transfers of HD Video, Music, Gaming and More Through Conventional Home Power Sockets FOUNTAIN VALLEY, Calif., Oct. 24 // -- D-Link, the end-to-end networking solutions provider for consumer and business, today announced availability of its fast 200Mbps PowerLine Network Kit that enables consumers to tap into existing electrical wiring to extend their home network. Network-enabled devices can easily be added to a home network using the new D-Link PowerLine Network Kit (DHP-301), which contains two PowerLine adapters, Ethernet cabling and an easy-to-follow installation disk. No new cables or wires are needed since the kit adapters take advantage of ordinary AC power and ever-present wall sockets for transferring data. "Our PowerLine networking solution makes it even easier for consumers to enjoy the benefits of a true digital home designed for high-definition media streaming, online gaming and other next-generation applications," said AJ Wang, chief technical officer for D-Link. "The technology is fast, extremely easy-to-use, and is a natural complement to our popular wired and wireless home networking for moving data into areas of a home where it may be difficult to run a cable or achieve a strong wireless signal." The technology is ideally suited for bandwidth-demanding applications such as high-definition media streaming, music sharing and online multi-player gaming. Connecting to the home network simply requires plugging one adapter to a router and the other to an Ethernet-ready device such as a personal computer, High Definition TV, digital video recorder, game console, print server or digital media player from D-Link's award-winning MediaLounge family of media streaming products. PowerLine is a "no new wires" technology that is a fast and cost-effective alternative to traditional Ethernet installations, complementing a wireless home network system. Price and Availability The PowerLine Network Kit (DHP-301) is available now from D-Link's network of retail outlets and will be available later this quarter from D-Link's extensive network of retail and online stores, including
www.dlinkshop.com
, with a suggested retail price of $219.99. About D-Link D-Link is the global leader in connectivity for small, medium and large enterprise business networking. The company is an award-winning designer, developer and manufacturer of networking, broadband, digital electronics, voice, data and video communications solutions for the digital home, Small Office/Home Office (SOHO), Small to Medium Business (SMB), and Workgroup to Enterprise environments. With millions of networking and connectivity products manufactured and shipped, D-Link is a dominant market participant and price/performance leader in the networking and communications market. D-Link Systems, Inc. headquarters are located at 17595 Mt. Herrmann Street, Fountain Valley, Calif., 92708. Phone (800) 326-1688 or (714) 885-6000; FAX (866) 743-4905; Internet
www.dlink.com
. Source: D-Link CONTACT: Les Goldberg, APR, Media Relations Manager, +1-800-326-1688 ext. 6095, les.goldberg@dlink.com Michael Scott, Technical Media Manager, +1-800-326-1688 ext. 6243, mscott@dlink.com Web site:
www.dlinkshop.com
/ Web site:
www.dlink.com
/