Product News: Test & Measuring Instruments
Acoustic Analysis System comes as a complete kit.
Press Release Summary: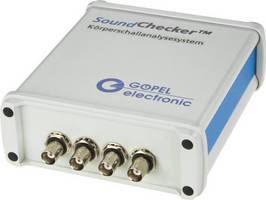 June 13, 2011 - SoundChecker(TM) consists of 24-bit USB DAQ module that allows for sound signal detection from 5 Hz to 22 kHz, and covers dynamic range up to 11 dB at sample rate of 51.2 kS/sec. Product also features structure-borne sound sensors or open air microphone. Controlled via common communication interface, system includes software that offers complex analysis processes for parametrization of specific impact and airborne sound evaluations.
Original Press Release
SoundChecker(TM) - New Cost-efficient Acoustic Analysis System
Press release date: June 7, 2011
GOEPEL electronic introduces SoundChecker(TM), a new, cost-efficient complete system for acoustic and impact sound analyses. The system concept provides an ideal compromise to highly complex acoustic test systems, being a simple introduction and entree to sound analysis.
SoundChecker(TM) is a complete kit consisting of a measurement data collecting unit, structure-borne sound sensors or open air microphones and an installation software which can be run on each PC with USB interface. GOEPEL electronic additionally offers completely set-up PC systems with preconfigured impact sound measurement equipment.
The USB data acquisition module provides excellent transmission behaviour for sound signal detection from 5 Hz to 22 kHz, because a dynamic range of up to 11 db at a sample rate of 51.2 kSa/s is covered. Due to the high 24 Bit resolution the module is a perfectly suitable tool to check for acoustic and mechanic vibrations. The integrated power supply (IEPE/ICP conformal) allows the direct connection of structure-borne sound sensors.
The operating software contains complex analysis processes for simple parameterisation of specific impact and airborne sound evaluations. SoundChecker(TM) can be synchronised and controlled via a common communication interface. Users may also install the software in parallel to their own applications to execute impact sound analyses.
About GOEPEL electronic:
GOEPEL electronic is a vendor of intelligent Automotive Test Solutions - from bus communication up to various functional test systems for vehicle control units and industrial applications. The company headquartered in Jena/Germany was founded in 1991 and has about 180 employees. GOEPEL electronic runs service and support offices in the USA, UK, France and China, and ensures the local and on-site availability of its products via an extended international distribution network.
More information about the company and its Automotive Test Solutions can be found on the internet at
www.goepel.com