Product News: Controls & Controllers
AC Drives are designed to handle VFD applications.
Press Release Summary: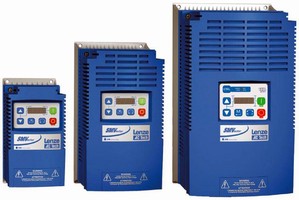 May 16, 2008 - Offered with power range from 15-30 hp for VFD applications, SMVector NEMA1 drives incorporate programmable digital input, terminals for RS-485 communications, and keypad. They also offer capability to wire RS485 directly into drive and give users immediate access to drive operation if external control is removed. Featuring 4 modes of operation, auto-tuning products deliver dynamic speed regulation and accept input from 120 Vac, 1-phase to 600 Vac, 3-phase.
Original Press Release
Lenze-AC Tech Expands its Role in the Highly Competitive World of Enclosed Variable Frequency Drives
Press release date: May 5, 2008
UXBRDIGE, MA - MAY 5, 2008 - Lenze-AC Tech announces the release of higher power, enhanced SMVector NEMA1 drives. According to company officials, with its price, flexibility and power range now extended to reach 30 Hp, the SMVector drive excels in traditional VFD applications as well as in environments where inverter technology was once considered too costly. Lenze-AC Tech describes the drive's increased capabilities as including an additional programmable digital input, terminals for RS-485 communications and an enhanced keypad. "In the past, we needed an external module for RS-485 communications," says Steve Dextraze, VFD Product Manager at Lenze-AC Tech, "now the 15 - 30 HP SMVector now has the capability to wire RS485 right into the drive." Dextraze continues, "To give users immediate access to drive operation if external control is removed, we have added a simple CTRL button for real time control of Local/Remote and Manual/Auto functions." Deb Kling, Lenze - AC Tech Marketing Manager, states that the SMVector carries all the features required by demanding applications, including four modes of operation - V/Hz, Enhanced V/Hz, Vector Speed, and Torque - plus high starting torque, auto-tuning, advanced low-speed control and dynamic speed regulation. Kling describes the SMVector as designed to be truly a global product, with an input voltage ranging from 120VAC 1-phase to 600 VAC, 3-phase, and she concludes, "Last but not least, the SMVector includes the Lenze-AC Tech Electronic Programming Module or EPM, a removable chip that is the drive's memory and allows a customer to program multiple drives in just seconds." Lenze-AC Tech develops, manufactures, markets and supports a complete range of motion control solutions, including servo drives and motors, clutches and brakes, gears and gear motors and variable frequency AC motor drives. Lenze-AC Tech's portfolio of AC Drive products extends from some of the world's smallest sub-micro drives up through large 500 HP. With North American headquarters in Uxbridge, Massachusetts and a global network of distributors and representatives, Lenze-AC Tech is perfectly positioned to meet the motion management needs of customers world-wide. Lenze-AC Tech can be found online at
www.Lenze-actech.com