Product News: Electrical Equipment & Systems
AC/DC Power Adapters comply with medical and safety standards.
Press Release Summary: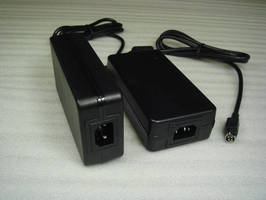 November 15, 2012 - Offering 90-105 W continuous output power, TMP105 power adapters operate at 90-264 Vac universal input and have in-rush current of 80 A at 115 Vac or 120 A at 230 Vac, at 25°C cold start. Fanless adapters operate at full load in temperatures from 0-40°C with derating required from 100% at 40°C linearly to 50% at 60°C. They feature active efficiency of up to 91%. Class I and Class II models are available, both protected against overvoltage and overcurrent conditions.
Tumbler Technologies, Inc. - Santa Clara, CA
Original Press Release
TRUMPower's New 90-105W Medical & ITE AC/DC Power Adapters Feature High Efficiency, Low Cost, and Up-to-Date Agency Approvals
Press release date: October 1, 2012
Santa Clara, California - Tumbler Technologies + TRUMPower is proud to launch its highly efficient TMP105 series of 90 to 105 watts AC/DC power adapters, which is approved to the latest medical and ITE safety standards

The TMP105 models come equipped with the IEC 320/C14 AC inlet for the Class I models and the IEC 320/C18 AC inlet for the Class II models. With 0.98 active power factor, the units operate at a 90 to 264 VAC universal input. Inrush current is 80A @ 115VAC or 120A @ 230VAC, at 25°C cold start. Offering up to 105W of continuous output power, the series provides a flexible range of output voltages including 12V, 13V, 14-16V, 18-19V, 20-21V, 24-25V, 28-29V, 30-32V, 36-38V, or 46-50V. The TMP105 series features soft-start and 120 to 200% high peak power of the maximum rated power, depending on the output voltage.

These models can operate at full load in temperatures ranging from 0°C to +40°C with derating required from 100% at +40°C linearly to 50% at +60°C. Measuring 5.76" (L) x 2.96" (W) x 1.54" (H), the fanless power adapters come with a power-on LED indicator and a 4-pin circular DIN output connector. TRUMPower also offers many other connector options and can accommodate special requirements.

The series offers a low earth leakage current of less than 200µA and touch current of 100µA maximum at 264 VAC, 63 Hz. They withstand isolation voltage of 5,656 VDC (4,000 VAC for Class II models) from input to output, 2,121 VDC from input to ground, and 707 VDC from output to ground. With an active efficiency of up to 91%, these units are compliant with the CEC and Energy Star Level V standards. The units are comprehensively protected against overvoltage and overcurrent conditions and deliver a reliable 150,000 hours minimum MTBF at full load at 25°C ambient per MIL-HDBK-217F.

The units are approved to the 3rd edition of EN 60601-1, UL 60601-1, and IEC 60601-1 medical standards, which includes risk management, and are also approved to EN/UL/IEC 60950-1 2nd edition standards. The agency approvals include EN 60601-1:2006, IEC 60601-1:2005 and IEC 60950-1:2005 by VDE, ANSI/AAMI ES 60601-1: 2005 and CAN/CSA-C22.2 No. 60601-1:08 by UL. The units comply with EMC and immunity standards that include IEC/EN 60601-1-2, EN 55011/EN 55022, FCC, VCCI class B, EN 61000-3-2, EN 61000-3-3, EN 61000-4-2, EN 61000-4-3, EN 61000-4-4, EN  61000-4-5, EN61000-4-6, EN 61000-4-8, and EN 61000-4-11.

The TMP105 series is competitively priced in OEM quantity. Units are available from 8 to 10 weeks ARO.

For more details on the TMP105 series, you can view the datasheet at www.trumpower.com/library/tmp105.pdf or email sales@trumpower.com.

About TRUMPower
TRUMPower has been delivering excellent quality medical and commercial grade AC/DC switching power supplies and DC/DC converters since 1991. The company's medical grade power supplies range from 3W to 700W in wall mount, desktop, open frame, and ATX PC form factors. TRUMPower can accommodate to OEM's needs, whether they are low volume or high volume power supplies, by providing prompt responses and cost-effective power solutions. As a result, it has gained a substantial number of satisfied customers over the years and continues to do so.

For more information on the company and its other products, visit www.trumpower.com or email us.

David Tang
Tumbler Technologies + TRUMPower
3350 Scott Blvd., Building 13
Santa Clara, California 95054, USA
Phone: (408) 988-6616 Ext. 102
Fax: (408) 988-6622
www.TRUMPower.com