Product News: Electrical Equipment & Systems
AC Current Sensors include built-in digital display.
Press Release Summary: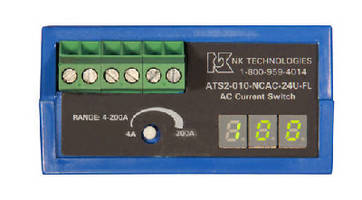 May 14, 2014 - Combining current operated switch and transducer in single package, ATS Series provides solid-state contact that changes state when current exceeds adjustable level or falls below normal running current. Built-in digital display delivers quick visual indication of where contact changes, enabling accurate setpoint adjustment. With NO or NC switch to control circuits up to 240 Vac, ATS models are compatible with most automation systems and offer choice of 4-20 mA, 0-5 Vdc, or 0-10 Vdc output.
Original Press Release
New AC Current Transducer/Switch from NK Technologies with Digital Display Delivers Quick Visual Status Indication
Press release date: May 4, 2014
LED setpoint display provides fast, accurate verification
SAN JOSE, CA — NK Technologies new ATS Series AC Current Sensors combine a current operated switch and transducer in a single package. A prominent feature to the new design is its built-in digital display that provides a quick visual indication of where the contact changes, making it the easiest and most accurate setpoint adjustment available.
These sensors provide a solid-state contact that changes state when the current exceeds an adjustable level or falls below the normal running current. This means reduced installation time, plus the option to have local control of a starter coil, while at the same time sending the analog signal back to a controller housed in a separate cabinet.
The factory set analog output calibration produces an accurate and stable signal by eliminating field zero and span adjustments. The trip point is adjustable from 2% to 100% of the analog range, and can be verified at any time by viewing the LCD display on the sensor. Any adjustments made by unauthorized personnel will be displayed, further improving overall system reliability.
ATS current operated sensors are advantageous over electromechanical pressure or flow devices by providing more reliable electronic proof-of-operation, while eliminating the need for multiple pipe or duct penetrations. ATS sensors are ideal for a wide range of industrial applications, including conveyor jam and overload protection, multiple conveyor section interlocking; pump control monitoring and shut down in the even of current rise beyond setpoint, cooling tower monitoring for time-of-use and clogged filter detection; grinder time-of-use and estimated power consumption monitoring, starter coil monitoring and machine shut down if an overload occurs.
ATS transducer/switch models provide a  N.O. or N.C. solid-state switch to control circuits up to 240 VAC. Compatible with most automation systems, ATS models are available with a choice of 4-20 mA, 0-5 VDC or 0-10 VDC output. Each output offers a range that is proportional to either 0-50 A or 0-200 A.
NK Technologies offers no-cost test and evaluation units to qualifying OEMs. Visit the Engineering Resources section of NK Technologies website for access to numerous application notes and a technology white paper on current sensing technology.
ABOUT NK TECHNOLOGIES
Founded in 1982, NK Technologies designed the first the low-cost solid-state current sensing technology that underlies the industry today. 
Today NK Technologies  is a leading provider of current sensing, ground fault detection and power monitoring products to the industrial and factory automation markets, with a product portfolio that includes more than 1300 models to satisfy a wide range of specific application needs.  As the needs of these markets change, NK Technologies is well-positioned to respond with sophisticated new product designs and improved product functionality necessary to meet those applications.
NK Technologies
3511 Charter Park Drive
San Jose, CA 95136
800.959.4014
fax: 408.871.7515
sales@nktechnologies.com
www.nktechnologies.com