Z-Power LED is 1.2 mm thick.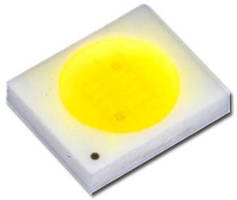 Z-Power LED is 1.2 mm thick.
April 24, 2009 - Z1 series includes NZ10150 (warm white color version) and WZ10150 (pure or cool white color version) with luminous flux of up to 95 and 125 lm respectively, and typical luminous flux of 80 and 105 lm, respectively. LED's body comprises primarily of ceramic allowing high heat conductivity and heat slug to facilitate heat treatment. Suitable applications include general illumination lighting, surface emitting lighting, lighting for security, and built-in interior lighting.

(Archive News Story - Products mentioned in this Archive News Story may or may not be available from the manufacturer.)
Original Press release

Seoul Semiconductor
148-29, Gasan-Dong
Geumcheon-Gu, , 153-801
Korea (south)



Seoul Semiconductor, Launching Z-Power LED Z1 Series to Lighting Market with 30% Innovative Price Competitiveness


April 8, 2009

o Z1 series has 30% lower costs when compared to existing 100lm power LEDs.
o To expand the adoption of LEDs technology in general illumination lighting applications

Seoul Semiconductor Co., Ltd.(represented by Chung Hoon Lee, www.acriche.com), a global LED maker, announces the launch of the Z1 series of Z-Power LED. The Z1 series, intended for general illumination lighting products, provides a competitive advantage in performance and price, and expands Seoul Semiconductor's support of the general illumination lighting market.

To expand the adoption of LEDs technology in general illumination lighting applications, Seoul Semiconductor has launched the Z1 series of Z-Power LED. This is accomplish this adoption the Z1 series has the required output power coupled with an innovative advantage of approximately 30% lower costs when compared to existing 100lm power LEDs.

The Z1 series includes the NZ10150 (warm white color version) and the WZ10150 (pure or cool white color version) with luminous flux of up to 95 lm and 125 lm respectively, and typical luminous flux of 80 lm and 105 lm, respectively. The Z1 body of Z1 is comprised primarily of ceramic allowing high heat conductivity and a large-area heat slug to facilitate heat treatment.

The Z1 series enables both interior and exterior lighting fixtures and home appliances by offering a brighter light source at high temperature for a longer timeframe without sacrificing high reliability. The Z1 series is as slim as a credit card, with a 1.2mm thickness. This makes the Z1 series an optimal LED for numerous compact illumination products.

Other applications for the Z1 series, outside of general illumination, include surface emitting lightings like signs, displays, refrigeration lighting, under-cabinet, lighting for security, and built-in interior lighting.

Seoul Semiconductor's the launch of the Z1 series of Z-Power LED facilitates easy, compact, high-output, inexpensive, high-reliability LED lighting markets.

About Seoul Semiconductor (www.acriche.com)

Seoul Semiconductor, a world leading LED manufacturer, has been named in Forbes and Business Week's lists as one of the most promising Asian companies. Its main offering, the Acriche(TM) LED, was also named "Product of the Year" by Elektronik in 2006, one of the most prestigious electronics publications in Europe. In 2008, this award was given again to Seoul Semiconductor's Flash LED product. Acriche, developed in 2006, is operated directly through AC current without any converters needed for DC LED operation, extending the LED's life span and making installation costs easier and less expensive. With these important benefits, Acriche LED technology is expected to pioneer the future of the lighting industry. With its cutting-edge technology, Acriche has been awarded in Newtech Korea 2008 and named as Korea Ten Best New Technologies of 2008. Seoul Semiconductor's primary business areas are LED packaging and custom module manufacturing. It provides a full range of LED products including AC-driven semiconductor light sources, Acriche brand products, High-Brightness-Power products, Side-View LEDs, Top LEDs, Chip LEDs, Lamp products, High-Flux LEDs, and custom-type modules. Applications for the company's LED products include general lighting, signage, back lighting for mobile phones, TVs, notebook computers, automotive lighting, home appliances, signals, etc. Seoul Semiconductor reported KRW 284b in sales in 2008. It filed and registered over 5,000. Seoul Semiconductor has 25 branches including 3 overseas corporate offices. Its products are also represented by more than 114 worldwide distributors.

For more information please contact

Hyesun Paek
Marketing PR Manager (in Korea)
E-mail: s1u0n0@acriche.com
Tel: +82-31-364-3787

---