Product News: Computer Hardware & Peripherals
XMC Single Board Computer consumes less than 18 W.
Press Release Summary: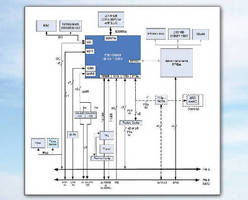 March 17, 2014 - Offered in air- and conduction-cooled configurations, Model XMC-109 is equipped with 1.2 GHz Freescale Dual-Core QorIQ™ P2020 processor. Unit is suitable for adding processing power, or supplementing existing processing capability with independent processor mezzanine module on host carriers such as 3U/6U VPX, 6U VME, or 3U/6U CompactPCI platforms. Board provides 2 GigE interfaces, 2 asynchronous RS-232/RS-422 serial ports, 4 LVTTL discretes, one USB 2.0 port, and one SATA 2.0 port.
Original Press Release
Curtiss-Wright Introduces Its First Rugged XMC Single Board Computer
Press release date: March 5, 2014
New XMC-109 SBC Features 1.2 GHz Freescale Dual-Core QorIQ™ P2020 Processor

ASHBURN, Va. — Curtiss-Wright Corporation (NYSE: CW) today announced that its Defense Solutions division has introduced its first rugged XMC single board computer (SBC), the new XMC-109 XMC single board computer (SBC). The low-power (<18 watts),="" compact="" sbc="" enables="" system="" designers="" to="" easily="" add="" processing="" and="" flexible="" i/o="" provided="" by="" a="" 1.2="" ghz="" freescale="" dual-core="" qoriq™="" p2020="" onto="" host="" carriers="" with="" an="" available="" vita="" 42="" site.="" offered="" in="" both="" air-="" and="" conduction-cooled="" configurations,="" this="" sbc="" is="" ideal="" for="" adding="" processing="" power,="" or="" supplementing="" existing="" processing="" capability="" with="" an="" independent="" processor="" mezzanine="" module="" on="" host="" carriers="" such="" as="" 3u/6u="" vpx,="" 6u="" vme,="" or="" 3u/6u="" compactpci="" (cpci)="">18>

"When slot-count is at a premium, this small XMC mezzanine processor brings the power of Freescale's QorIQ P2020 processor, with its dual 1.2 GHz cores and flexible I/O capabilities, to processing applications that require a low-power footprint," said Lynn Bamford, Sr. VP/GM, Defense Solutions division.

Ideal for Adding Processing Power Without Adding Slot Count

The XMC-109 can be combined with a wide range of Curtiss-Wright products to create low power, small footprint solutions.  For example, when added to the recently announced VPX3-716 3U VPX graphics module, the XMC-109 provides 6 heads of video output and a processor in a single slot.  When extra processing power is required - but slots are limited - the XMC-109 can be simply added to any available XMC slot.  When added to a 3U or dual-XMC site 6U VPX carrier card, such as Curtiss-Wright's VPX6-215, the XMC-109 can be combined with other mezzanine cards, such as a 1553 XMC-603 or a XMC FPGA module, to create a flexible single slot solution that eases future technology insertion performance upgrades.

Comprehensive, Flexible I/O

The XMC-109 provides system designers with a broad range of I/O capabilities. Its standard I/O complement includes:

Two (2) Gigabit Ethernet (GbE) interfaces on Pn6 9 (factory configurable to 2x 1000Bx)
Two (2) asynchronous RS-232/RS-422 serial ports
Four (4) LVTTL discretes (each software configurable as input or output, with interrupt capability as input)
One (1) USB 2.0 port
One (1) SATA 2.0 port

Software Support
Software support for the XMC-109 includes Curtiss-Wright's UBoot firmware, which provides a comprehensive suite of system debug, exerciser and update functions, built-in-test (BIT), and non-volatile memory sanitization functions. Operating environment support for the XMC-109 includes VxWorks and Linux.

For more information about the XMC-109, click here to download the factsheet. For information about Curtiss-Wright's comprehensive family of embedded module and fully integrated computing solutions please visit us at www.cwcdefense.com.

Sales & Editorial Contacts
For editorial information regarding Curtiss-Wright Defense Solutions products or services, contact John Wranovics, public relations director, Curtiss-Wright, Tel: (925) 640-6402; email: jwranovics@curtisswright.com.

Sales inquiries: Please forward all Sales and reader service inquiries to Jerri-Lynne Charbonneau, Curtiss-Wright Defense Solutions, Tel: (613) 254-5112; Fax: (613) 599-7777; e-mail: defensesales@curtisswright.com.

About Curtiss-Wright Corporation
Curtiss-Wright Corporation (NYSE:CW) is a global innovative company that delivers highly engineered, critical function products and services to the commercial, industrial, defense and energy markets.  Building on the heritage of Glenn Curtiss and the Wright brothers, Curtiss-Wright has a long tradition of providing reliable solutions through trusted customer relationships. The company employs approximately 10,000 people worldwide.  For more information, visit www.curtisswright.com.

NOTE: Trademarks are the property of their respective owners.

John Wranovics
Director of Public Relations
Curtiss-Wright Defense Solutions
jwranovics@curtisswright.com
Mobile: (925) 640-6402