Product News: HVAC, Controls & Controllers
Wireless-Enabled Control intelligently manages HCAC components.
Press Release Summary: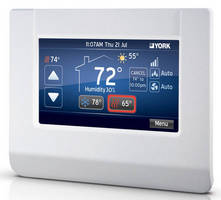 March 18, 2014 - Featuring 4-wire connections that facilitate installation to York® Affinity™ gas furnaces, A/C units, heat pumps, and air handlers, Wi-Fi®-capable York Affinity Residential Communicating Control provides remote access to control system from smartphone/tablet device and mobile app. Operators can monitor status of every enabled system device, while touchscreen UI and remote access aid installation/troubleshooting. Features include zone control and automated system fault/alert email notification.

Original Press Release
Johnson Controls introduces Wi-Fi®-Capable York® Residential Communicating Control
Press release date: March 7, 2014
MILWAUKEE – The new Wi-Fi®-capable York® Affinity™ Residential Communicating Control from Johnson Controls, a global multi-industrial company with established core businesses in the automotive, building and energy storage industries, offers an intuitive interface and remote access, which makes installation and troubleshooting routines easy.

The Wi-Fi capability provides homeowners with remote access to the control system from their smartphone or tablet device using the IntelliComfort™ mobile app, allowing them to easily monitor the status of every enabled system device—from the air conditioner to the furnace to the air handler to the heat pump. Contractors can ask homeowners to provide them with access to automated system faults and notification alerts via email.

Contractors save installation time with familiar four-wire connections to all York® Affinity™ gas furnaces, air conditioners, heat pumps and air handlers. The plug and play design instantly syncs with an integrated control that connects with each piece of intelligent equipment.

Configuration of the unit is easy through contractor-accessible menus. Thermostat fault features can be accessed to let contractors:

Set the level of information displayed if a fault occurs. For example, create simple generic messages for faults that require service—or create more detailed notifications for customers who live outside a regular service area to determine the level of service required.

Set up the profile with their company information and logo. That way, if a fault occurs, contractor contact information is displayed so customers know who to call.

Homeowners will appreciate the "Quick Heat and Cool" feature which temporarily puts the heating or cooling mode at the highest capacity, as well as multiple schedules and daily events that can be easily programmed to help reduce their utility bills. Zone control is possible for up to six zones, meaning precise comfort levels can be programmed from a single touch screen.

For more information, visit www.yorkhvacdealer.com/Affinity-RCC.

For reader inquiries:
Steve Hoffins
Director of Marketing – Unitary Products
Johnson Controls, Inc.
507 E. Michigan Street
Milwaukee, WI 53202
(414) 524-5487
steven.c.hoffins@jci.com

For more information:
Kari Pfisterer
Johnson Controls
414-524-4017
Email: Kari.B.Pfisterer@jci.com