Wire Bonding Islands offer alternative to long wire bonding.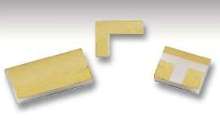 Wire Bonding Islands offer alternative to long wire bonding.
August 9, 2004 - Gold-plated, Wire Bonding Islands can be mounted between 2 components being wired together using shorter wire leads, reducing overall parasitics in circuit. Units feature option of using tab for connection to circuit with standard thickness of 0.015 in. Made from alumina substrate, devices feature wire-bondable gold conductor, silver ground plane, and gold-plated, beryllium copper tab contact.

(Archive News Story - Products mentioned in this Archive News Story may or may not be available from the manufacturer.)
Original Press release

Florida RF Labs Inc.
8851 S.W. Old Kansas Ave.
Stuart, FL, 34997
USA


Wire Bonding Islands: A New Alternative to Long Wire Bonding Connections
Now available from Florida RF Labs, a Smiths Interconnect company, is an alternative to long wire bonding connections between components, which produce inductance in the circuit and to gold plating on the PC Board, which increases cost.

The new gold-plated range of wire bonding islands can be mounted between two components being wired together using shorter wire leads and therefore reducing overall parasitics in the circuit.

Wire bonding islands feature the option of using a tab for easy connection to a circuit and benefit of a standard thickness of only 0.015 inches (0.38mm). Other thicknesses are available upon request. In addition, the components can be manufactured to customer request.

Manufactured from alumina substrate, the new devices feature a wire bondable gold conductor, the tab contact is made of beryllium copper and gold plated per MIL-T-10727. The ground plane is made of silver.

About Florida RF Labs

Florida RF Labs was founded in 1983 and became part of Smiths Interconnect division in 2000. Florida RF Labs offers a broad line of RF and microwave resistive and signal processing products for stripline, microstrip and coaxial applications, in the military, space and commercial markets. The company is ISO-9001, ISO-14001 and space qualified in both resistors and cable assemblies and boasts full design and manufacturing capabilities. Understanding the necessity for prompt communications, design solutions and on-time product delivery gives Florida RF Labs a distinct advantage in the global marketplace.

About Smiths Interconnect

Smiths Interconnect, a division of Smiths Group, is a global provider of electronic application specific components and sub-systems for the electronics interconnect, telecommunications, medical, industrial, aerospace as well as military and satellite markets worldwide.

Smiths Interconnect businesses comprise of; EMC Technology, Florida RF Labs, Hypertac Interconnect, LEA International, PolyPhaser, Radio Waves, Sabritec, Summitek Instruments, TECOM Industries, Times Microwave Systems, TRAK Microwave, Transtector Systems, Smiths Interconnect Shanghai and Smiths Interconnect Japan. Each business is a leader in its field and trades under their own strong brand name.

For further information:

Patrick Biebersmith: Product Manager

Tel.: +1-772-286-9300, Email: pbiebersmith@rflabs.com

Anthea Collier: Business Services Manager

Tel.: +1-772-286-9300, Email: acollier@rflabs.com
---


Start Your

Free


Subscription to


Industry Market Trends

.