Product News: Display & Presentation Equipment
Widescreen HD Projectors offer advanced connectivity options.
Press Release Summary: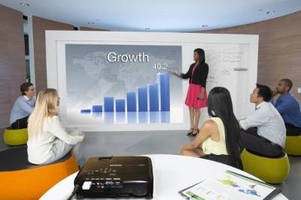 August 25, 2014 - Designed for meeting rooms with ambient light, EX7235 Pro and EX7230 Pro utilize 3-chip 3LCD technology and deliver WXGA resolution for widescreen HD presentations. Units provide 3,000 lm of color light output and 3,000 lm of white light output. EX7235 Pro includes Wi-Fi® module and quick connect on-screen QR code feature for wireless setup. Both feature HDMI™ port, which supports Mobile High-Definition Link, to display content from MHL-enabled smartphones and tablets.
Original Press Release
Epson Introduces Professional-Grade Widescreen HD Projectors with Advanced Connectivity
Press release date: August 19, 2014
New EX Pro Series Projectors Deliver High Brightness, MHL Connectivity and Easy Setup Features for Versatile Projection Needs

LONG BEACH, Calif., -- Epson, the number-one selling projector brand worldwide(1), today introduced two new EX Pro series projectors, delivering high brightness and advanced connectivity options, including built-in wireless projection(2) and Mobile High-Definition Link (MHL(®)) support. The new EX7235 Pro ($649*) and EX7230 Pro ($599*) are designed for meeting rooms with ambient light and deliver WXGA resolution for widescreen HD presentations, 3,000 lumens of color light output and 3,000 lumens of white light output(3), and a simple setup suite to ensure flexible placement in virtually any room.

"With high brightness, state-of-the-art connectivity and reliable 3-chip 3LCD technology, the Epson EX Pro series brings meeting room projection to the next level," said Eric Uaje, associate product manager, Projectors, Epson America, Inc. "With a range of features such as wireless connectivity and MHL, users can easily connect to their mobile devices and enjoy the added convenience of leaving their laptops at home."

The EX7235 Pro includes a Wi-Fi(®) module and a new quick connect on-screen QR code feature for easy wireless setup. To present wirelessly from mobile devices, users can take advantage of Epson's free iProjection app(4). In addition, supporting the latest in wired connectivity, both the EX7235 Pro and EX7230 Pro include an HDMI(TM) port, which supports MHL, to display content from MHL-enabled smartphones and tablets.

The EX Pro series delivers a wide range of innovative features that ensure bright, vibrant images, flexible placement and fast setup, including:

-- 3LCD Technology: Features the latest 3-chip 3LCD technology to deliver amazing, true-to-life color and detail for powerful presentations; Epson projectors offer three times brighter colors than leading competitive projectors(5). This technology also provides an energy-efficient light engine which uses available lamp light to create stunning images, and in contrast to 1-chip DLP technology, 3LCD requires, on average, 25 percent less electricity per lumen of brightness(6)
-- Easy Image Adjustments: Automatic vertical correction and Easy-Slide horizontal image correction ensure correctly proportioned images from virtually anywhere in the room
-- Wireless Connectivity: Connect directly to a laptop, smartphone or tablet wirelessly with the included wireless LAN module, as well as connect wirelessly to a network for easy presenting and projector monitoring and control(2)
-- Epson iProjection((TM)): Leverage the free Epson iProjection app to present from Apple(®) devices running iOS 4.2 or later, or Android(TM) devices running Android 2.3 or later(4)
-- QR Code Connection(7): Epson's new quick connect on-screen QR code provides access to content from smartphones and tablets; simply turn the projector on, use the free Epson iProjection app(4) to scan the on-screen QR code and be instantly connected to share content
-- HDMI Connectivity: Allows for audio and high quality HD video content in one cable; compatible with laptops, Blu-Ray Disc(®), media players, and MHL-enabled devices
-- MHL: Allows users to leave the laptop at home and display content directly from an MHL-enabled smartphone or tablet; conveniently control MHL-enabled devices with projector remote control and charge devices while they're connected to the projector
-- Quick Control: Instant Off(®) quickly powers down the projector with no cool down time; Sleep Mode (A/V Mute) pauses the presentation without turning off the projector; and Direct Power Off/On delivers wall switch power control

Color Brightness Specification and Projector Performance
The color brightness specification (measuring red, green and blue) published by the Society for Information Display (SID) allows consumers to compare projector color performance without conducting a side-by-side shootout. With today's high definition content, presenters can display content with higher quality in brighter environments. For a truly impressive image, projectors need to offer both high color brightness and high white brightness. High color brightness is important for larger screen sizes and provides flexibility for a variety of screen materials. Without sufficient color brightness, images may be muddy, soft and lose detail, even in a dark room. For more information, visit http://www.colorlightoutput.com.

Availability and Support
The Epson EX7235 Pro and EX7230 Pro will be available in September through major retailers and directly on Epson.com. The projector comes with a one-year limited warranty that includes Road Service projector replacement program with projector exchange in one business day with paid shipping, and a 90-day limited lamp warranty. For additional information, visit www.epson.com/projectors.

About Epson
Epson is a global innovation leader dedicated to exceeding expectations with solutions for markets as diverse as the office, home, commerce, and industry. Epson's lineup ranges from inkjet printers, printing systems and 3LCD projectors to industrial robots, smart glasses and sensing systems and is based on original compact, energy-saving and high-precision technologies.

Led by the Japan-based Seiko Epson Corporation, the Epson Group comprises more than 73,000 employees in 94 companies around the world, and is proud of its ongoing contributions to the global environment and the communities in which it operates. Epson America, Inc. based in Long Beach, Calif. is Epson's regional headquarters for the U.S., Canada, and Latin America. To learn more about Epson, please visit: www.Epson.com.

You may also connect with Epson America on Facebook (http://www.facebook.com/Epson), Twitter (http://twitter.com/EpsonAmerica) and YouTube (http://www.youtube.com/EpsonTV).

* MSRP; dealer prices may vary

(1) Based upon Q1 2014 worldwide front projection market share estimates from PMA Research.

(2) Built-in wireless available on EX7235 Pro only; optional wireless module may be purchased separately for the EX7230 Pro

(3) Color brightness (color light output) and white brightness (white light output) will vary depending on usage conditions. Color light output measured in accordance with IDMS 15.4; white light output measured in accordance with ISO 21118.

(4) Check your owner's manual to determine if a wireless LAN module must be purchased separately to enable wireless connection on your Epson projector. Epson projectors can be networked either through the Ethernet port on the projector (check model specifications for availability) or via a wireless connection. Not all Epson projectors are able to be networked. Availability varies depending on model.

(5) Compared to leading 1-chip DLP business and education projectors based on NPD data, July 2011 through June 2012. Color brightness (color light output) measured in accordance with IDMS 15.4. Color brightness will vary depending on usage conditions

(6) Data source: ProjectorCentral.com, Jan. 2014. Average of 1,243 shipping models for which the manufacturers provided lumens and total power data, all resolutions and brightness levels. Energy efficiency was measured as wattage per lumen. It was measured for both 3LCD and 1-chip projectors in each of six brightness segments. 3LCD projectors averaged less required electricity per lumen in each of the six segments.

(7) Available on EX7235 Pro only

Note: EPSON and Instant Off are registered trademarks, EPSON Exceed Your Vision is a registered logomark and Epson iProjection is a trademark of Seiko Epson Corporation. Apple is a trademark of Apple Inc., registered in the U.S. and other countries. Android is a trademark of Google Inc. All other product brand names are trademarks and/or registered trademarks of their respective companies. Epson disclaims any and all rights in these marks.

CONTACT: Duane Brozek, Epson America, Inc., 562-290-5683, Duane_Brozek@ea.epson.com;

Web Site: http://www.epson.com