Product News: Electrical Equipment & Systems
Wide-Input DC/DC Converter targets telecom and PoE applications.
Press Release Summary: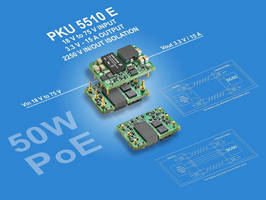 April 22, 2014 - Available in through-hole and SMT versions, PKU5510E features 18–75 V input range and fly-forward topology. This 1.3 x 0.9 x 0.37 in., 50 W module delivers output current of 15 A at 3.3 V output and has built-in functional isolation of 2,250 Vdc. With natural convection, module delivers full performance up to 80°C, and full power can be delivered up to 96°C when system experiences 3.0 m/s convection cooling. Efficiency reaches 92% efficiency at 50% load and 27 V input.
Original Press Release
New Ericsson Power Module Integrates Ultra-wide Voltage Input for Telecom and Power-over-Ethernet Applications
Press release date: April 10, 2014
• Enhanced 50W ultra-wide-input power module in sixteenth-brick footprint simplifies Power-over-Ethernet (PoE) applications
• Ultra-wide input voltage from 18V to 75V means new module accommodates 24V and 48V systems, reduces inventories and is also suitable for remote power feed applications
• Enhanced thermal layout improves power-dissipation in low-airflow applications
• 2250Vdc isolation matches Power-over-Ethernet specifications

Ericsson has introduced a new 50W DC/DC converter module that targets Power-over-Ethernet (PoE) applications. Very importantly, the new Ericsson PKU5510E converter features an ultra-wide input range of 18V to 75V, which means that the device is also suitable for 24V or 48V telecom systems. The module is the latest evolution of Ericsson's PKU family and combines the thermal enhancements integrated in the recently announced PKU4116C module together with an optimized fly-forward topology, which was first introduced by Ericsson in 2008. The PKU5510E delivers an output current of 15A at 3.3V output and has a built-in functional isolation of 2250Vdc that meets the requirements specified by the IEEE802.3 Ethernet networking standard, and also meets Basic Insulation requirements according to IEC/EN/UL60950.

"The growing market for Power-over-Ethernet based applications is a highly demanding one," said Patrick Le Fèvre, Marketing and Communication Director, Ericsson Power Modules. "It requires cost-efficient and high-efficiency power products such as the PKU5510E, which benefits from Ericsson advanced R&D and integrates a best-in-class thermal layout with an advanced power topology to deliver industry-leading performance."

The PKU5510E has been designed for applications that have to accommodate both telecom system bus voltages of 24V and 48V, while also being a best-in-class product to supply voltages to Power-over-Ethernet based applications such as remote antennas, WIFI repeaters, basestation microcells, CCTV/camera monitoring systems and a variety of different sensors.

Due to its ultra-wide input and high efficiency, the PKU5510E is also an ideal solution to power industrial applications and many others that use remote power feeds, where a module is required to operate irrespective where it is connected or indeed of the length of the line cable. In addition, the wide input range of PKU5510E offers another benefit for applications that require a hold-up capacitor to prevent the loss of vital data in the case of line disruption. As the module can operate at 18V, a hold-up capacitor can maintain voltage for a longer period of time when compared to a competitive power module with a narrower input range. And because of the module's wide range of operation, this can even reduce the amount of capacitors required and therefore reduce cost.

Designed for applications that are subject to peak currents and environment with very low natural convection or airflow, the PKU5510E embeds a unique overload protection system. In these types of applications, the overload protection must prevent false triggering while simultaneously guaranteeing reliable protection from overloading. A solution for this complex situation has been achieved by combining two Over-Current Protection (OCP) methods. In the case of a short-duration overload, the hiccup-mode OCP uses a tightly controlled cycle-by-cycle current limitation; and in the case of longer overload, the hiccup-mode OCP will trigger for conventional hiccup protection.

However, protection is not just limited to two hiccup modes, as the hiccup activation time is proportional to temperature and becomes shorter with an increase in temperature, thereby limiting the energy dissipated during this period. Following activation of the Over-Temperature Protection (OTP), the module thoroughly checks the OTP threshold to prevent any restart that could damage the module.

Available in an industry-standard sixteenth-brick footprint – with dimensions of 33 x 22.9mm and a low-profile height of only 9.4mm (1.3 x 0.9 x 0.37in), the device delivers up to 50W, and provides up to 92% efficiency at 50% load and 27V input, guaranteeing low power dissipation and reduced energy consumption.

Built upon an enhanced thermal layout, the PKU5510E delivers outstanding performance for applications that have limited airflow, which is usually the case in low-power PoE systems. In the case of natural convection, the module delivers full performance up to 80°C; and when the system experiences 3.0m/s convection cooling, full power can be delivered up to 96°C. Offering an MTBF (Mean-Time-Before-Failure) of 4.9 million hours, the PKU5510E meets safety requirements according to IEC/EN/UL 60950-1 and offers input/output isolation of 2250Vdc. PKU5510E also includes various protection features, including Output-over-Voltage Protection (OVP), input-under-voltage shutdown, Over-Temperature Protection (OTP), output short-circuit protection and pre-biased output.

The PKU5510E series is available in both through-hole (PI version) and surface-mount (SI version) types. The PKU5510E is priced at $15 in OEM quantities.

FOR FURTHER INFORMATION, PLEASE CONTACT:
Patrick Le Fèvre
Marketing and Communication Director
Ericsson Power Modules
Phone: +46-10-716 95 07

Reader Inquiry reference:
Reference: E0186(A)

About Ericsson Power Modules
www.ericsson.com/powermodules