Product News: Electronic Components & Devices
Wi-Fi Modules target M2M and Internet of Things markets.
Press Release Summary: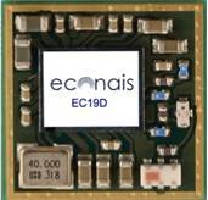 January 14, 2014 - Measuring 8 x 8 mm, EC19D SiP Modules can be embedded in almost any product or application, enabling product designers to quickly connect devices to 802.11b/g/n Wi-Fi networks. Modules feature Wi-Fi Direct, ProbMe™ configuration, full TCP/IP stack, HTTPS/SSL, DHCP Client/Server, and WPS, as well as legacy Wi-Fi Client and SoftAP modes with WPA/WPA2 support, Serial to Wi-Fi, and Cloud Service Support.
Original Press Release
eConais Announces EC19D Next Generation 802.11b/g/n Wi-Fi Modules
Press release date: January 9, 2014
Smallest, Most Easily Integrated, and Lowest Standby Power in the Market

SAN JOSE, Calif. -- eConais Inc., the technology leader in ultra low power miniature Wi-Fi module solutions for the Internet of Things, has announced the world's smallest, most easily integrated, and lowest standby power single chip 802.11b/g/n Wi-Fi System In Package (SiP) modules for the Internet of Things. 

To help speed the design of products for the growing Machine to Machine (M2M) and Internet of Things (IoT) markets, the eConais EC19D family of SiP modules enables product designers to quickly and easily connect their devices to 802.11b/g/n Wi-Fi networks.  At 8x8mm in size, the EC19D modules can be embedded in almost any product or application.  The EC19D will also include FCC, IC, and EC certifications to further simplify and speed up product design and production for use with Wi-Fi networks throughout the world.

The EC19D incorporates the newest Wi-Fi 802.11b/g/n standards and features to give designers a full array of options for embedding the module in their designs.  Features include: Wi-Fi Direct, ProbMeTM configuration, full TCP/IP stack, HTTPS/SSL, DHCP Client/Server, WPS, legacy Wi-Fi Client and SoftAP modes with WPA/WPA2 support, Serial to Wi-Fi, Cloud Service Support, and more.

"The EC19D family of modules meet the needs of our customers looking for the smallest, lowest power, and most feature rich modules for products that need to be Wi-Fi enabled," said Dimitris Leonardos, VP of Product Management of eConais Inc. "We are proud to be able to provide such a significantly improved option for designers."

"We are very pleased to announce the EC19D family of modules. These world class Wi-Fi module products, our global distribution and manufacturer representative salesforce, and our growing network of strategic partners are all designed to help our customers be successful in the Internet of Things and Machine to Machine markets. We will have some exciting additions to announce later this year," said Dr. Nick Kanopoulos, CEO of eConais Inc.

Engineering samples and production quantities of the EC19D01 are available now.   A development kit for the EC19D, part number EC19D01SDK, is also available from eConais and through the global representative and distribution network of partners. http://www.econais.com/EC19D

About eConais Inc:
eConais is a module manufacturer and solutions company building ultra-low power connectivity solutions to address the expanding Internet of Things (IoT) market. eConais' easy-to-use modules and software enable customers to leverage the globally installed base of Wi-Fi access points and smartphones to create connected products for healthcare, smart energy, audio, consumer and control/monitoring in industrial, commercial and residential markets. http://www.econais.com

Company Contact
Brent Ward
Marketing
(919) 345-2336
bward@econais.com

RELATED LINKS
http://www.econais.com
Twitter: http://www.twitter.com/econais
Facebook: http://www.facebook.com/econais
LinkedIn: http://www.linkedin.com/company/econais
Google Plus: https://plus.google.com/100809419404420422765/
YouTube: http://www.youtube.com/user/eConaisWiFi
Pinterest: http://www.pinterest.com/econais