Product News: Electronic Components & Devices
White Chip LED features packaging-free design.
Press Release Summary: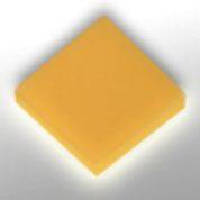 April 8, 2014 - With substrate-free flip chip and phosphor molding process, White Chip LED can be fabricated by SMT equipment. When used in GU10 spot lamp, device can achieve high lumen output and high lumen intensity, reaching up to 2,500 cd at 25° with CRI 90 performance, making it suitable for replacing 50 W halogen lamp. Light tube equipped with White Chip and Chip on Glass technology allows 360° illumination, reaching ultra-high efficiency of 200 lm/W.
Original Press Release
Lextar to Debut White Chip LED
Press release date: March 31, 2014
HSINCHU -- Lextar Electronics Corp. ("Lextar" or the "Company) (TAIEX: 3698), a vertically integrated LED company, announced packaging-free "White Chip" to demonstrate its new achievement in LED technology. This new White Chip LED will make its debut at "Light + Building Frankfurt 2014" until April 4(th). It is demonstrated by various LED lamps, including 50-watt halogen equivalent GU10 LED spot lamp, point-light candle lamp, and omni-directional LED tube featuring ultra high efficiency.

Lextar's new White Chip technology involves substrate-free flip chip and phosphor molding process, and can be fabricated by current SMT equipment; all these features can simplify the manufacturing process significantly. Lextar's White Chip is a chip scale die without packaging process, featuring high lumen densities, high lumen output, wide beam angle, and can be packaged closer therefore simplify optical lens design. Lextar's White Chip can be applied to lighting products especially small sized lamps such as spot or candle lamps.  It can also be applied to backlighting, helping reduce the thickness of direct-lit backlight modules.

To demonstrate Lextar's synergy of vertical integration, Lextar will bring various lighting applications with its White Chips implemented at Light+Building 2014 exhibition. When used in GU10 spot lamp, this White Chip can achieve high lumen output and high lumen intensity, reaching up to 2500cd at 25 degree with high CRI 90 performance, making it a perfect replacement for 50-watt halogen lamp. The White Chip also gives its point-light candle lamp identically glowing effects to the starlight to create an exquisite setting indoor. Moreover, the light tube equipped with White Chip and COG (Chip on Glass) technology, on the other hand, allows magnificently 360-degree illumination reaching ultra-high efficiency of 200 lumens per watt.

"Since LED companies have been eager to attempt simplified manufacturing process at reduced costs in these few years, flip chip and several packaging-free LED products are getting more popular," said Dr. Reg Tsai, Director of Technology R&D Division of Lextar. Thanks to its vertical integration advantage, Lextar provides products and services through different stages from upstream chip to finished lighting products. The Company expects to move this newly launched White Chip into market during Q2 this year.

* Image download for Lextar's White Chip: https://www.dropbox.com/sh/e961ghsqdbqa05z/cAnleRO5_L

About Lextar Electronics
Lextar Electronics Corp. (TAIEX 3698), founded on May 23, 2008, is a subsidiary of AU Optronics. It specializes in manufacturing high-brightness LED epi wafers, chips and packages, as well as energy-saving and smart lighting products. The range of applications includes LCD backlighting, LED light module, LED light source and luminaires. Lextar officially acquired LightHouse Technology Inc. in March 2010, and Wellypower Optronics in February 2013. The company now houses nearly 3,500 employees and its headquarters is in the Hsinchu Science Park, Taiwan. Its manufacturing plants are located in the Hsinchu Science Park, Hukou Industrial Park and Chunan Science Park in Taiwan, and Suzhou and Xiamen in China. Lextar's turnover in 2013: USD 462 million. Corporate website: Lextar.com

For more information, please contact media relations:

Fiona Chiu
Corporate Communications
Lextar Electronics Corp.
Tel:   +886-3-5658800 ext 1894
Fax: +886-3-5638319 ext. 501894
Email: Fiona.Chiu@Lextar.com

Web Site: https://www.dropbox.com/sh/e961ghsqdbqa05z/cAnleRO5_L