Product News: Chemical Processing & Waste Management
Wet Scrubber combines compact size, efficient design.
Press Release Summary: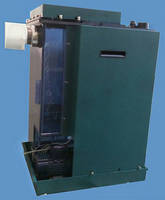 July 2, 2010 - Measuring 1.7 x 2 x 3 ft, Monsoon provides exhaust scrubbing capacity of 400 Lpm for etchers or 12,000 Lpm for fume hoods and consumes 2 gph to conserve water usage. Design solves challenge of exhaust clogging via integration of 4 in. inlet, optionally heated up to 300°C. By removing HCl, unit minimizes maintenance and loss of production due to ammonium hydroxide and HCl forming aluminum chloride crystals.
Original Press Release
The TecHarmonic Monsoon Wet Scrubber - Small and Efficient
Press release date: July 1, 2010
As semiconductor facilities attempt to expand/update their process lines, the availability of chase & subfloor facility space has become more of an issue.
The need for a small footprint, low-cost-of-ownership wet scrubber has come into demand. TecHarmonic's NEW solution is the "Monsoon" wet scrubber: a small (1.7W x 2D x 3H feet) system with a price 40% below competitors and an exhaust scrubbing capacity (400 LPM for etchers or 12,000 LPM for fume hoods) 100% greater than competitors. Currently available wet scrubbers consume 2 to 3 GPM, but the Monsoon only uses 2 GPH, an up to 90 times reduction in water usage. Also, the Monsoon solves the tough challenge of exhaust clogging at the scrubber inlet with a custom, large 4-inch inlet, optionally heated up to 300oC.
Often wet bench fumes combine in the exhaust ducts to form solid byproducts and create maintenance and loss of production (i.e., ammonium hydroxide and hydrogen chloride form troublesome aluminum chloride crystals). The Monsoon can easily remove the HCl and thereby eliminate the maintenance.
To learn more about the NEW MONSOON, email us at info@techarmonic.com or call 408 360-8780 x 222 for sales and technical assistance.
19 Great Oaks Blvd - Suite 10, San Jose CA 95119 techarmonic.com