Welding Lens is suited for low light conditions.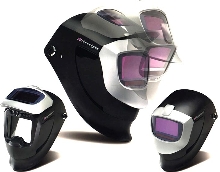 Welding Lens is suited for low light conditions.
January 31, 2002 - Speedglas(R) FlexView has 4.75 x 3.6 in. spring-mounted clear polycarbonate lens that flips up for weld preparation. Auto-darkening lens allows for grinding and cleaning, alignment of electrodes and inspection of newly completed welds, all with eye and face protection. It offers clear view combined with breathable, Speedglas 9000 CO2 reducing helmet. Lens meets ANSI Z87.1 industrial eye and face protection standard.

(Archive News Story - Products mentioned in this Archive News Story may or may not be available from the manufacturer.)
Original Press release

Hornell, Inc.
2374 Edison Blvd.
Twinsburg, OH, 44087 2340
USA


New Exclusive: Auto-Darkening Welding Lens Flips Up For Weld Preparation In Very Low Light Conditions
The new Speedglas® FlexView has a big, 4.75" x 3.6" (120 x 92mm)
clear polycarbonate lens that's ideal for precision weld
preparation under low light conditions.

The user simply lifts up the spring-mounted Speedglas lens
assembly for weld prep. The spring holds the auto-darkening lens
securely on top of the helmet, giving the welder a big, clear view behind the FlexView protection lens.

The clear lens allows for precision grinding and cleaning, the
careful alignment of electrodes and the inspection of newly-
completed welds...all with constant eye and face protection, even in the darkest workshop.

The clear lens meets the ANSI Z87.1 industrial eye and face
protection standard, which does not recommend "...filter or tinted lenses that restrict light transmittance..." when chipping or grinding (American National Standard Z87.1-1989, page 16, Selection Chart, Impact Protectors).

The FlexView system is the only product to offer users a clear
view combined with a "breathable, " CO2-reducing helmet: the
Speedglas 9000. The helmet's four aerodynamically designed exhaust vents have been proven to reduce carbon dioxide (CO2) heat, and humidity. As a result, users feel more energetic and clear-headed all day long.

Also available with the exclusive Speedglas SideWindows(TM) model, which increases the helmet's viewing area by 100% via two shade 5 peripheral lenses. The FlexView system accommodates any of the four Speedglas 9000 auto-darkening welding lens models.


---


Start Your

Free


Subscription to


Industry Market Trends

.