Product News: Test & Measuring Instruments, Vision Systems, Computer Hardware & Peripherals, Optics & Photonics
Welding Camera withstands applications to 390°F.
Press Release Summary: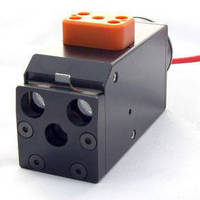 January 14, 2013 - Designed for 3–12 in. working distances, MeltView DART-X enables remote, up-close monitoring of GTAW, GMAW, PAW, LBW, and other fusion welding processes in enclosed spaces that are hazardous or impossible to access. Operators can monitor multiple processes simultaneously and record welding for trouble shooting and quality assurance. Camera includes integrated lighting and water-cooling as well as optional gas-knife, enabling visualization of direct deposition and internal pressure vessel cladding.
Original Press Release
"MeltView DART-X Welding Camera for High-temperature Applications
Press release date: January 9, 2013
Subheading: Visualize welding with MeltTools' water-cooled, ruggedized camera

The MeltView DART-X is a versatile, ruggedized camera that provides a clear image of welding during high temperature applications up to 200°C (390°F).

MeltTools LLC (www.melttools.com) introduces the MeltView DART-X (http://www.melttools.com/products/dart-x-welding-camera), a new addition to its range of customizable welding cameras for visualizing GTAW, GMAW, PAW, LBW and other fusion welding processes. The MeltView DART-X is designed for remote, up close monitoring of harsh welding applications such as welding of pre-heated materials and welding in enclosed spaces that are hazardous or impossible for humans to access. The MeltView DART-X enables operators to safely monitor multiple processes simultaneously and record welding for trouble shooting and quality assurance. Magnified images of the weld zone provide image quality as clear or clearer than that seen through a welder's helmet and facilitate real-time detection of welding defects. As one welding engineer commented, "The MeltView DART has worked perfectly under harsh conditions, allowing our welders to work remotely while still producing outstanding welds."

The MeltView DART-X builds upon MeltTools' flagship product, the MeltView 100 (http://www.melttools.com/products/100-welding-camera) camera for welding. The MeltView DART-X employs the same high-dynamic range optical technology used in the MeltView 100 to produce a cutting-edge image of welding. Moreover, MeltView technology provides a clear image during both welding and non-welding and automatically switches between these two states. Novel features of the MeltView DART-X include smaller size, integrated lighting, integrated water-cooling, and optional gas-knife, thus enabling visualization of a wide range of welding applications, such as direct deposition and internal pressure vessel cladding.

Water-cooling channels in the DART-X camera body provide adequate cooling in temperatures up to 150°C (300°F) when chilled water is supplied. Additional cooling up to 200°C (390°F) is provided by means of purified air or nitrogen. Both water and nitrogen may be conveniently tapped from a welding torch's cooling water or from purge gas, respectively. Cooling with purified air or nitrogen provides the added benefit of a gas knife that exhausts over the front of the camera to keep the optical pathway clear. The gas knife feature is particularly useful as the camera is designed for working distances of 3-12 inches (75-300mm) between the front of the camera and the weld zone. Keeping the optical pathway clear during welding is a big challenge for processes like GMAW that generate high amounts of spatter and vapor. The MeltView DART-X also features a second method of protecting the optical pathway, a replaceable spatter shield for a simple and low-cost way of maintaining a clear image. The MeltView DART is also available in an air/gas-cooled-only model called the MeltView DART-A (http://www.melttools.com/products/dart-x-welding-camera).

MeltTools LLC designs and manufactures state-of-the-art camera systems that improve the productivity, quality and safety of machine welding operations. For more information on the MeltView DART-X or other welding visualization systems, please contact MeltTools LLC at:
7849 S. Sprinkle Road
Portage, MI 49002
Tel: 269-978-0968
Email: sales@melttools.com
Web: www.melttools.com

Nicole Maturen
General Manager
269-978-0968
nicole@melttools.com